Catholic Charities Thanksgiving Mass & Charity Expo 2023
5 September 2023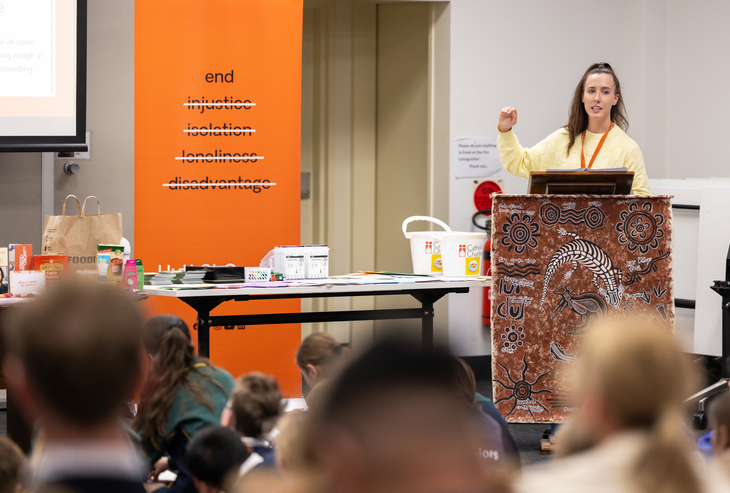 2023 Event
The 2023 Catholic Charities Thanksgiving Mass & Charity Expo was held on Tuesday September 5, 2023. This was the eleventh year the event has been held in this format.
Over 13 schools took part with nearly 130 students attending the Thanksgiving Mass. Those included St Catherine's Stirling, Dominican School, Semaphore, Christian Brothers College, Adelaide, St Mary's Memorial School, Glenelg, St John Bosco School, Brooklyn Park, St John the Apostle School, Christie's Beach, Emmaus School, Woodcroft, Antonio Catholic School, Morphett Vale, Holy Family Catholic School, Parafield Gardens, St Aloysius College, Adelaide and making the trip all the way from Port Pirie, St Mark's College. Students from Our Lady of La Vang and St Patrick's special school also attended as well as they are part of the group of agencies who receive funding from Catholic Charities.

After the Thanksgiving Mass held at 12.10pm, in St Francis Xavier's Cathedral, celebrated by Archbishop Patrick O'Regan the Charities Expo was held in the Cathedral Hall. This was an opportunity for students and supporters to talk to the agencies Catholic Charities raises money for and find out about their work as each gave a short presentation. Pictured is Jacinta Munro from Hutt St Centre who gave a very comprehensive outline of the work of Hutt St Centre and was able to answer lots of questions from the students who attended. Centacare Catholic Family Services Leanne Haddad also spoke about the many special works of Centacare including their foster care team. It was a very successful day!
Click here for a selection of images from the event.
---
2022
There was extra reason to celebrate when the tenth annual Catholic Charities Thanksgiving Mass was held on December 7. In addition to giving thanks for the generous support given to Catholic Charities throughout the year, the Mass was an opportunity to celebrate Centacare Catholic Family Services' 80 years of service to the community.
The Thanksgiving Mass was held in St Francis Xavier's Cathedral, followed by the Charities Expo in Mary MacKillop Plaza.
Pauline Connelly, director of Centacare, also spoke about the work of the agency and suggested to the students at the Mass that social work, disability services or psychology might be areas they would like to pursue after they finished school.

Click here for a selection of photos from the event.
Click here for a selection of photos from the 2021 event.
Click here for a selection of photos from the 2020 event.
---
Catholic Charities Annual Golf Day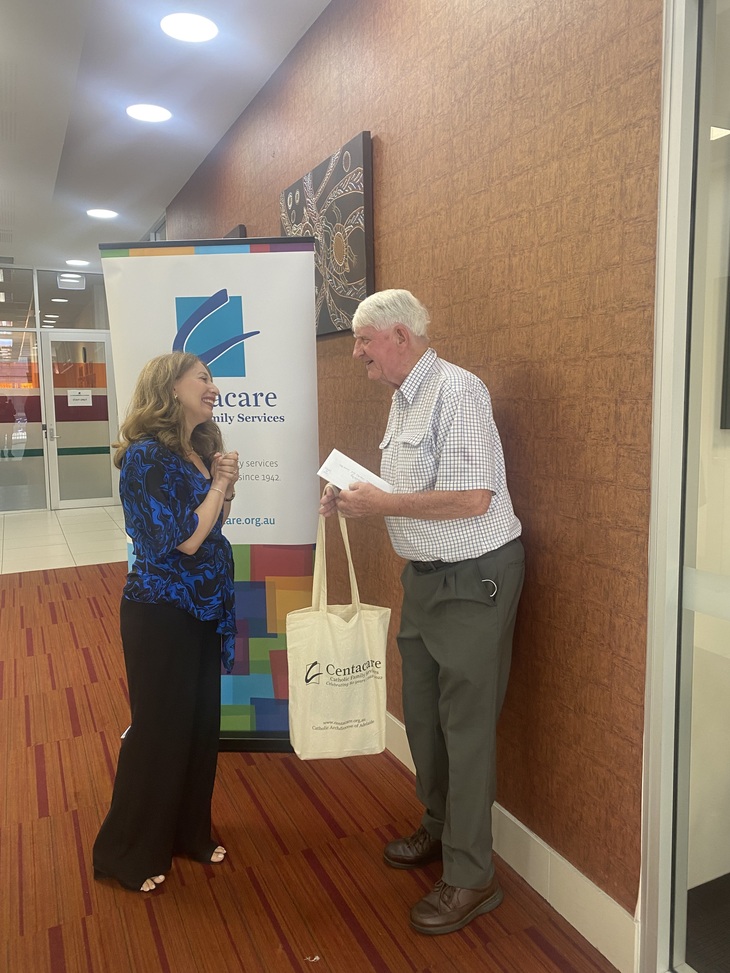 2023 Event
The 2023 Golf Day will be held on Monday 16 October, for further information please contact the office.
Email: charities@adelaide.catholic.org.au
---
Earlier in 2023 Peter McCarthy (pictured) presented a cheque for $19,500 raised at the annual Catholic Charities Golf Day 2022 to Leanne Haddad, director of Centacare Catholic Family Services.

In its 28th year, the Catholic Charities Annual Golf Day is made possible by the efficient organisation of the Southern Cross Golf Club committee, chaired by Peter McCarthy.
The money raised from the event held in 2022 will help fund the development of a green space and improvement of a veranda at Alban Place, Centacare's drug, and alcohol residential facility.
Thanks also to the main sponsors, Whelan Aged Care Advice and Southern Cross Care (SA, NT & Vic), make the event possible by their generous sponsorship and are supported by the tee sponsors, prize sponsors and dedicated players.
The major trophy for men, the Tom Fogarty Memorial Trophy, was won by Simon Sleep and the runner up was Peter Martin. The Helen Kain Trophy for the winner of the women's event was won by Di Psaila.
---
2021
Peter McCarthy Chair of the Catholic Charities Golf Day Committee presented a cheque for $21,500 to Pauline Connelly, Director of Centacare Catholic Family Services, from the funds raised from the Catholic Charities annual Golf Day held on 18th October 2021. This was a fantastic achievement on behalf of the Golf Day Committee.
Catholic Charities Golf Day raises funds to support Centacare's many important works in particular their domestic and family violence prevention program: Power to End Violence Against Women. The Power to End Violence Against Women (PTEVAW) was developed in 2015 by Centacare in partnership with Power Community Limited (PCL) and the Government of South Australia.
2020
The 2020 event raised $19,340.00 for Auricht House - Catholic Charities joined with Centacare in commending the Golf Committee and players for their fantastic efforts in raising this money.
---
Easter Egg collection for Catholic Charities
2023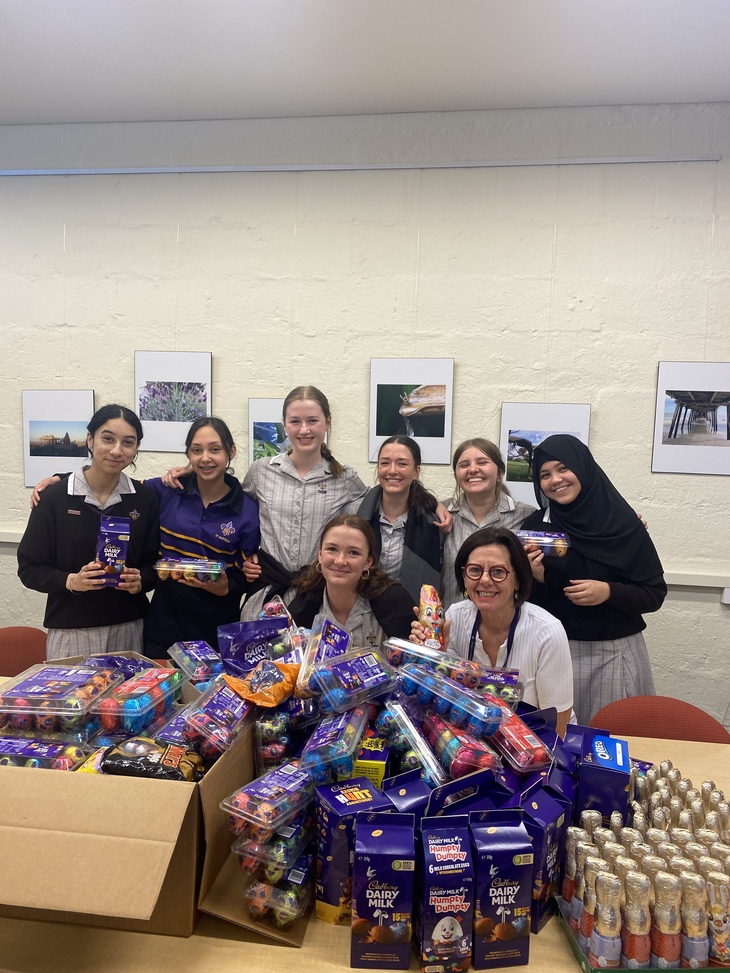 Continuing generosity
A tradition begun by Catholic Charities and continued by St Aloysius College year 10 students saw hundreds of Easter treats delivered in time for Easter to women and children experiencing domestic violence and homelessness.
On April 4, the students delivered the chocolate eggs and other sweets to Centacare and Catherine House via trolleys, washing baskets, boxes, and bags.
Leanne Haddad Executive Director of Centacare Family Services expressed her thanks to the students, "On behalf of Centacare, I would like to thank you for the generous donation of Easter Eggs for the clients in our Young Family Support Program. This service is formed by four residential sites in the Adelaide Metropolitan area, Coolock House, Louise Place, Malvern Place and Findon Family Housing, where we provide a range of supports to young women who are pregnant or parenting. I acknowledge the outstanding effort put in the coordination of this donation and appreciate your continuous support to our mission of giving our clients a sense of hope and stability."
Catherine House and Catholic Charities also thanked the students for their continued generosity.
Photos from this year's delivery can be seen here.
---