Our Mission


Caritas Australia is the Catholic Church's agency for international aid and development. It aims to work and stand in solidarity with communities suffering from poverty and disadvantage. Caritas Australia gives expression to the Gospel imperative to pursue justice and bring freedom to the poor and oppressed, while proclaiming their human dignity.

This work is undertaken in partnership with communities in Australia and overseas, through programs of aid and development.
---
Project Compassion 2022
The theme for this year is "For All Future Generations"
Project Compassion is Caritas Australia's annual Lenten fundraising and awareness-raising appeal. Millions of Australians come together in solidarity with the world's poor to help end poverty, promote justice and uphold dignity.
---
Women for the World Fundraiser in August
Trek up a Hill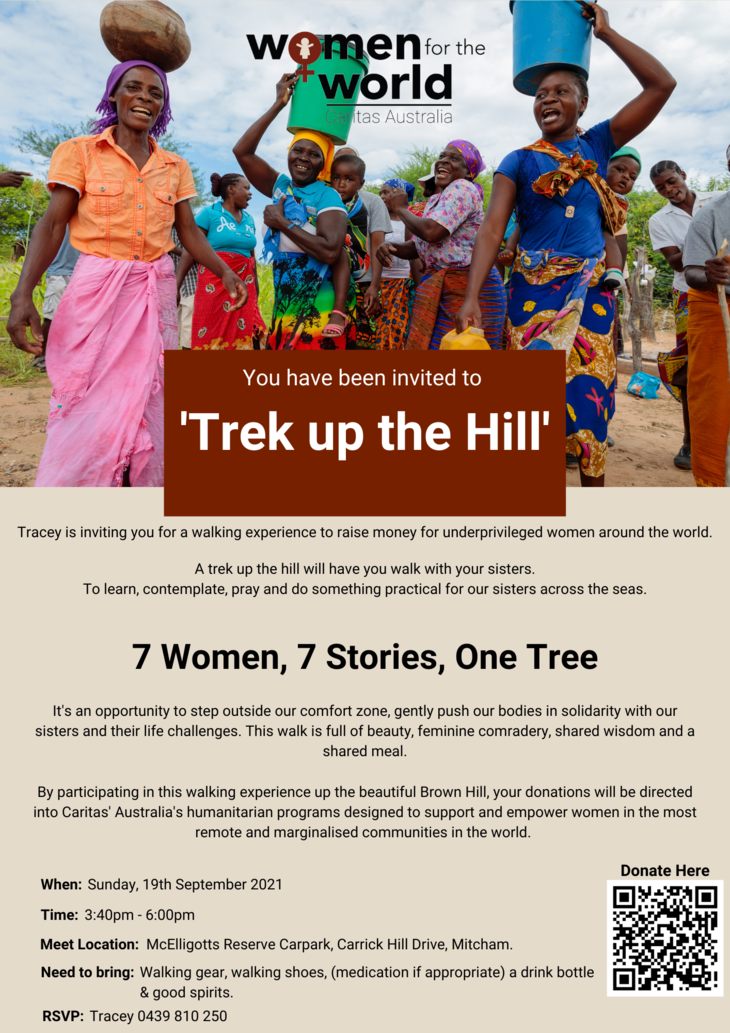 Caritas Australia has launched its annual Women for the World Campaign - which brings Australians together to help empower vulnerable Women with the skills and resources they need to take control of their lives and forge their path out of poverty.
Women around the world are disproprtionately affected by poverty, food insecurity and gender-based violence. According to UN Women, globally, 193 million women currently live on less than $1.90 a day, and the COVID-19 pandemic will likely push an additional 47 million women into poverty by the end of this year.
Supporters can participate in Women for the World by donating to the campaign or hosting an event. People can share a meal with friends using receipes from around the world or hold a book club and select books written by women writers - which can be done in person or virtually depneding on your states restrictions.
FIND OUT MORE HERE - (click here)
Caritas in the Archdiocese of Adelaide has trialled a Trek up the Hill experience.
Where 7 women share 7 stories of seven women from marginalised countries who have overcome adversity, to improve their lives and become leaders in their impoverished communities.
It was a wonderful reflective experience for a very worthy cause.
If you are interested in finding out more about this, Please contact: Tracey Tessitore 0439 810 250.