Project Compassion 2023
HUNGRY SUNDAY - 19 March 2023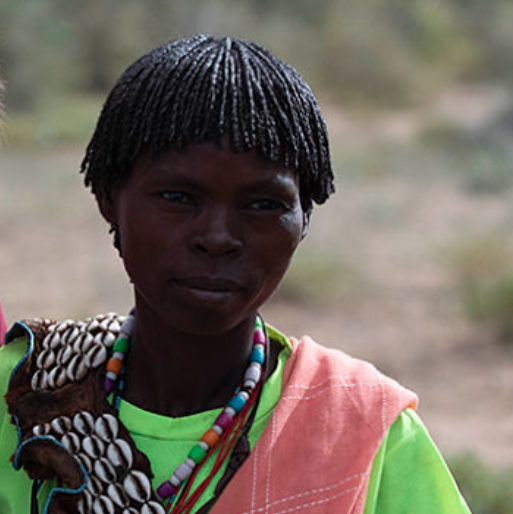 Hungry Sunday Fundraiser - 19th March 2023 - at St Bernadette' Church at St Marys.
60 years ago.. a group of parishioners at THIS parish church organised a HUNGRY SUNDAY !
Why… ?
… because upon hearing about the Freedom from Hunger Campaign launched in 1960, they felt called by the gospel into action.
…because they wanted to bring to our awareness the suffering of those in developing countries experiencing severe food insecurity…..
…because they wanted to walk in solidarity with their most vulnerable brothers and sisters and for just one day, experience their extremely challenging circumstances and fast in gratitude …
…..because they wanted to follow the bible teaching ….and Jesus' words in the gospel of Matthew ..
"When I was hungry… you fed me".
And give a small donation to make a difference.
What they did that day…has began, what we know today as,
"Caritas Australia" -and the fundraiser "Project Compassion"
- a campaign happening across Australia that had its foundations right here!!
In Adelaide On the grounds of St Bernadette's Church!
Join us after 10:45 Mass next Sunday 19th March For a basic meal of lentils and rice … maybe our only meal for the day to walk in solidarity with our brothers and sisters in Yemen Afghanistan and in the Horn of Africa.
For More details contact:
Tracey Tessitore 0439 810 250
Sabrina Dumont 0414 810 008
Freeda DeMelo 0434 069 898
(Tracey's voice) Caritas IN THE BEGINNING- Tracey.pptx

PROJECT COMPASSION 2023 – BE INSPIRED
....For all generations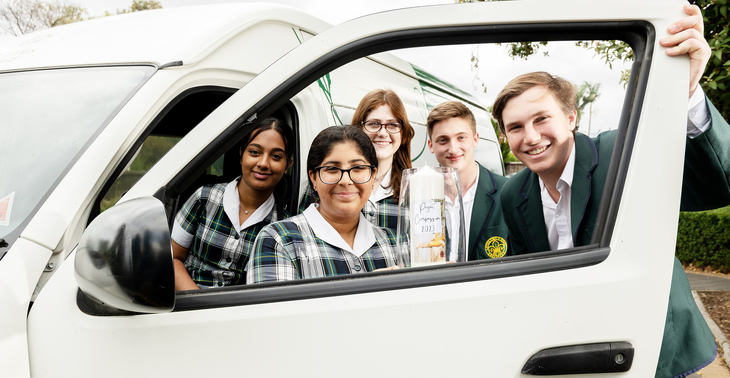 Launching Project Compassion in ALL SCHOOLS!
Lent has commenced and Project Compassion has been launched in ALL SCHOOLS.
We are on the eve of our 60th Anniversary year, and this is a time to celebrate the new generation of Leaders that deeply care for those marginalised and want to do something about it!
Seven schools attended the Launch for Project Compassion at Mercedes College. It was so inspiring to see these young leaders and their maturity – thinking globally and compassionately! We give deep thanks for those guiding and supporting them.
We also thank our AMAZING HOSTING SCHOOL who showed true compassion extending themselves above and beyond! THANK YOU MERCEDES COLLEGE!
View the PowerPoint presentation (below) by Mercedes College – for ALL SCHOOLS to BE INSPIRED for this year's PROJECT COMPASSION for ALL FUTURE GENERATIONS!!
A BIG THANK YOU FROM CARITAS AUSTRALIA FOR YOUR EFFORTS FOR PROJECT COMPASSION IN 2023.
2023 Launch Project Compassion.ppsx

RUNNING TO HELP THOSE IN TURKEY & SYRIA 2023
Fr Charles is running to support the vulnerable affected by the recent Earthquake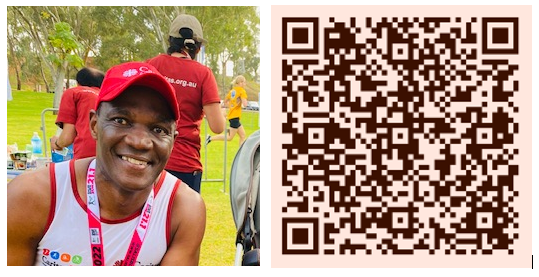 Fr Charles Lukati IS ON THE RUN AGAIN, using his God-given passion to run. He has joined with Caritas Australia to raise funds for TURKEY AND SYRIA - to help communities impacted by the recent Earthquake - leaving thousands injured and homeless in the cold winter.
On Sunday April 2, Fr Charles (Parish Priest of Croydon Park) will participate in the CLARE VALLEY RUN Half Marathon (21.1km!).
To donate - scan the QR CODE above or click on the link below and support his RUN: https://caritas-turkey-syria.raisely.com/father-charles-lukati?utm_source=qrcode
If you would like to place a poster in the foyer of your parish please see PDF File below.
---
Fr Charles Fundraiser Caritas edited FINAL 2.pdf

Project Compassion 2023
"FOR ALL FUTURE GENERATIONS" ......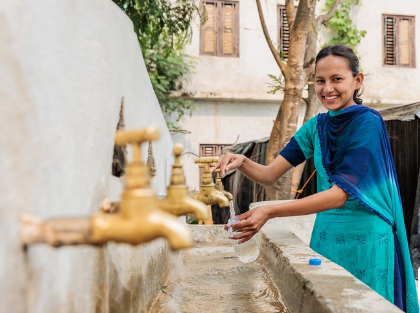 Project Compassion is Caritas Australia's annual Lenten Appeal which funds the continuing work of Caritas Australia in Australia, Asia, Africa, the Pacific and Middle East.
Project Compassion funds are used to support Caritas Australia's long-term development programs.
Project Compassion is an opportunity to share what we have with those who have less.
Explore Project Compassion's to "For all Future Generations...". Click here.
---
What's happening in schools and parishes ...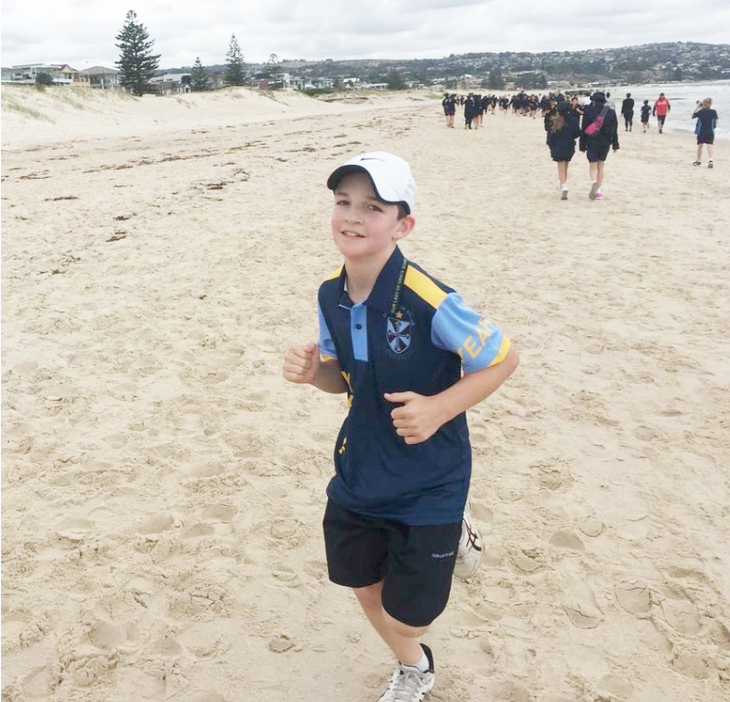 ADELAIDE | STUDENTS JOIN THE LONG WALK FOR JUSTICE
Across South Australia, nine Catholic Colleges came together for a coastal Caritas Ks. The students completed either a 3km walk or a 6km run, starting from Angus
Neill Reserve Seacliff and looping between Brighton and Seacliff.
In the many communities where Caritas Australia works globally, it's mainly the women and the girls that walk an average of 6km a day to obtain the water necessary for their survival.
At the end of the walk, students pooled their Project Compassion donations for Caritas Australia. Thank you South Australian youth for walking towards a better, more just and equitable world.
Picture: School students strolled, walked and sprinted for Project Compassion in South Australia. Year Six student, Tom, still has plenty of energy left as he runs the 6km to put dollars in his Project Compassion box. Photo: Tracey Tessitore
Click here to read/download to read more Caritas News/Winter Edition
---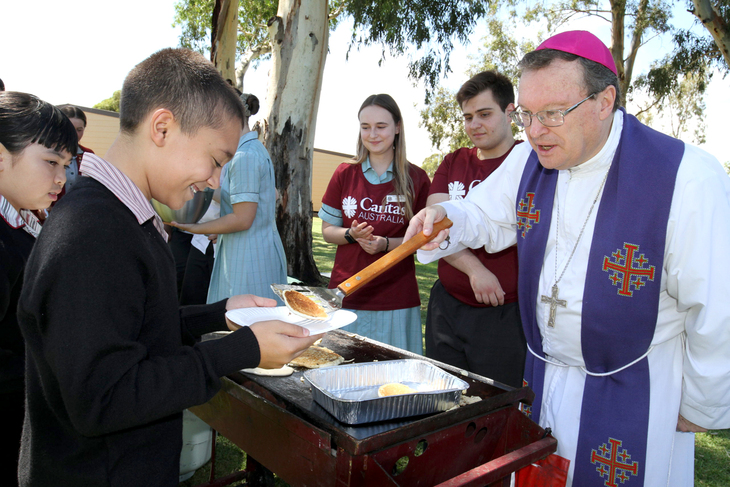 School launch 2021 - Thomas More College
Picture: Archbishop Patrick O'Regan showed he could 'be more' by cooking pancakes for Shrove Tuesday at Thomas More College, Salisbury, last week.
Serving up compassion on Shrove Tuesday | The Southern Cross, March 2021
The traditional pancake cook-up followed the schools launch of Project Compassion in a liturgy involving students from the college and neighbouring Catholic schools. This year's theme for Project Compassion, Oscar Romero's quote of 'aspire not to have more, but to be more', connects well with the college motto of Learn More, Love More, Be More. Project Compassion is the annual Lenten campaign of Catholic humanitarian and development agency Caritas Australia.
---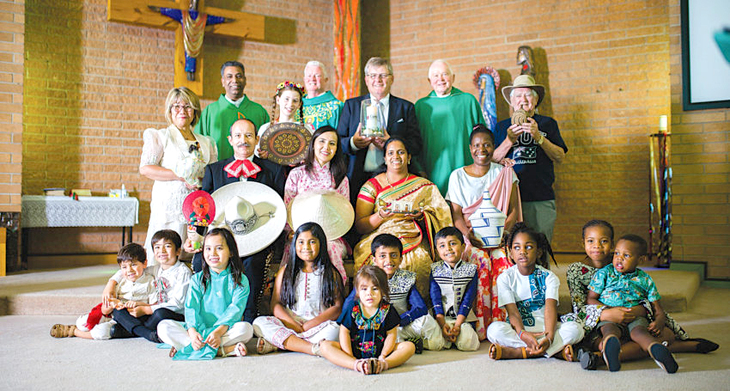 Parish launch 2021 - Clearview/Kilburn Parish
Picture: Vicar General Fr Philip Marshall (back, second from left) and members of the Clearview/Kilburn parish celebrate the launch of Project Compassion on Valentine's Day. Photo: Nat Rogers
Loving start to Project Compassion | The Southern Cross, March 2021
There was a lot of love at the Clearview/Kilburn parish on Valentine's Day this year, but for a different reason. The parish opened its church doors to warmly welcome the Project Compassion launch for 2021 on Sunday February 14.
Parishioners acknowledged the multiculturalism of the community by dressing in their national costume and bringing symbols from the various countries around the world to be placed with this year's Project Compassion symbols from Solomon Islands, Bangladesh, Indonesia and Tanzania.
---
What's happening in your school?
Tell us what is happening in your school – awareness raising activities, fundraising and special events. Let the rest of the community know what you are doing.
I would love to hear from you - send me, Tracey Tessitore, an email with details of your school, activities and your contact details.
---