The Companions of St Joseph seek to:
"Give spiritual help to those for whom nothing but great love of God can keep faith alive" (Julian Tenison Woods).
Share in the mission of the Church by being a visible witness to God's love in the ordinary events of day to day life.
Commit ourselves to being in companionship with like minded others, supporting and helping one another to interpret and reflect on our individual calling to participate in the ongoing work of Mary MacKillop.
Be in friendship with the Sisters of St Joseph of the Sacred Heart as they reflect upon their call to be truly present to each other and to the people whom they serve.
Share our "Josephite" charism with others who feel called to minister in the Josephite spirit.
Commit ourselves to a humble and prayerful relationship with our God present in all the events of life, to loving companionship with our brothers and sisters, to a deep reverence for creation, and to a trust that God's goodness will provide all that we need.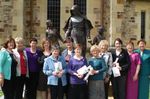 The inaugural members of the Companions of St Joseph together with Sr Mary Cresp rsj at their Commitment Ceremony on September 20, 2009.