Guidelines for the celebration of the Eucharist and the distribution of Holy Communion
Apostolic Administrator Bishop Greg O'Kelly SJ has confirmed that Masses of up to 10 people are now permitted in South Australian churches.
"It is so refreshing for our faith and love of the Eucharist that we may once more participate in Mass," said Bishop O'Kelly, who is also Bishop of Port Pirie Diocese.
"We have keenly felt the deprivation of the Eucharist."
He said while weekday Masses would resume, because of the limit of ten people Sunday Masses may be further delayed, according to the decision of the local parish.
"We are grateful for the patience and goodwill of the people and look forward to the blessings that will come upon us," Bishop O'Kelly said.
Diocesan guidelines around the resumption of Mass with Holy Communion have been issued to clergy following approval from the Premier's Department on Friday afternoon.
Guidelines Celebration Eucharist Distribution Holy Communion.pdf

UPDATED Bishops Conference Advice on COVID-19 20200515.pdf

12 May 2020
Places of Worship
Step One Fact Sheet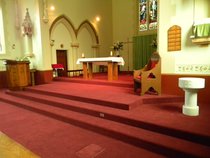 Following the limited reopening of churches, we are continuing to work with government and other church leaders to achieve every best possible outcome for our faithful, while also not transgressing government directions and ensuring we are responsible. I am very conscious of the pain our people are feeling at not being able to receive the Eucharist but we also need to be mindful of the devastating impact of COVID-19 and the need to be cautious and vigilant. - Bishop Greg O'Kelly SJ
Places-of-Worship-Step-1-Fact-Sheet-9-May.pdf

08 May 2020
Re-opening churches
Bishop Greg O'Kelly SJ
As you would be aware the Prime Minister and South Australian Premier made several announcements this afternoon, some in relation to the re-opening of churches. Of particular note is our own South Australian Premier detailing specifics effective Monday, May 11, 2020.
A summary is provided below:
Churches may re-open for private prayer. Numbers will be restricted to 10 people plus staff. They are not open for either private/public masses except for funerals, weddings and baptisms.
Funerals now permitted to have 20 indoors and 30 people outdoors plus those officiating.
Weddings now permitted to have 10 people plus those officiating.
Private baptisms are allowed to resume with 10 people plus those officiating.
Circular - re-opening churches.pdf

23 Mar 2020
Latest protocols
Fr Philip Marshall, Administrator Delegate
Please find latest protocols relating to the Coronavirus in the circulars below.
Circular - Updated New Regulations 122 25320.pdf

Circular - New regulations 118 23320[2].pdf

21 Mar 2020
Online prayer and worship resources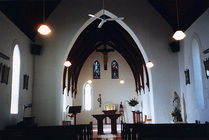 Our Church in South Australia and beyond faces an extraordinary situation when for the first time in our history Mass will not be celebrated in our parish churches, until further notice.
We will be updating this section to provide you with a range of online resources for prayer and worship - click here.
19 Mar 2020
Temporary suspension of Masses and public liturgies
My Dear Sisters and Brothers,
The Prime Minister has announced that non-essential indoor gathers are to be limited to 100 people and outdoor events of more than 500 are prohibited. Given the serious nature of the Coronavirus, as a community we are to support these measures as responsible and sensible.
Circular - Protocols re Coronavirus _ 112 190320.pdf

19 Mar 2020
Catholic Masses in SA suspended
Media Release | Thursday March 19 2020
The Catholic Church in South Australia has suspended the celebration of all Mass services and other major liturgical events.
This follows advice from health authorities and the Federal Government's decision to ban any gatherings of more than 100 people due to COVID-19.
The temporary suspension of worship in Catholic churches across the State includes Holy Week and Easter celebrations such as Holy Thursday Mass, Stations of the Cross on Good Friday, the Easter Vigil and Easter Sunday Mass.
Media Release - Church response to COVID-19 March 19 2020.pdf

13 Mar 2020
Guidelines for preventing the spread of Coronavirus
Dear Brothers and Sisters in Christ,
A number of questions have arisen concerning Holy Week, visiting the sick and collections.
I am sure that commonsense and prudence of the priests and deacons will ensure that everything is done to contain the possible spread of the coronavirus. We have taken advice on these items from infectious disease control specialists.
Circular - Guidelines for preventing the spead of Coronavirus 097 120320a.pdf

03 Mar 2020
Protocols re Coronavirus
Dear Sisters and Brothers in Christ,
At present there is no indication of the spread of coronavirus in South Australia. This offers us time to consider how we might respond to the virus before any urgency arises, and to play our part in preventing spread in the community. After extensive consultation with medical experts, and in order to be well prepared I am implementing the following guidelines effective from this coming weekend, Sunday March 8.
Circular - Protocols re Coronavirus 086 3320.pdf