08 Sep 2020
Information about funerals, weddings and COVID Marshals
Message from Archbishop Patrick O'Regan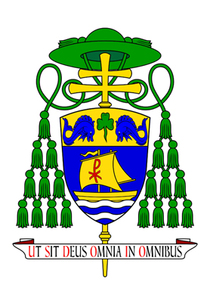 Dear Sisters and Brothers,
Grace and peace, I hope this note finds you well.
I am writing to communicate and confirm the following information that has come into effect from 5th September 2020:
Funerals and Weddings: are now permitted for up to 150 people with hygiene and social distancing regulations still being observed providing 2 square metres per person.
COVID Marshals: Please refer to the attached SA Health Factsheet which outlines that COVID Marshals are not required for weddings and funerals unless there is eating and drinking under an approved COVID Management Plan. Please refer to this Factsheet which clarifies when a COVID Marshal is required. This Factsheet can be found attached below.

20200908 001 L POR.pdf

20200828-COVID-Marshal-Fact-Sheet-v7-28.8.20.pdf

11 Aug 2020
Advice for Religious and Faith Communities
Message from Archbishop Patrick O'Regan
Grace and peace, I hope this note finds you well.
Following our recent instruction of 31st July 2020 around Liturgical Music, we have now received further advice from SA Health. It relates to congregational singing.
In the latest Fact Sheet (attached for your reference) it advises that "singing increases the distance that droplets from the mouth can travel and spread, so spacing of 1.5 metres apart is advised when signing" and suggests that:
• Congregational singing be avoided.
• Choirs are permitted, provided: Singers are able to be social distanced from each other and the rest of the congregation. Numbers are limited to a designated person or a very small group.
20200729+-+COVID-19+Factsheet+-+Religious_Faith+communities+Guidance.pdf

20200811 009 L POR congregational singing.pdf

24 Jul 2020
Capped numbers for Weddings and Funerals
Message from Archbishop Patrick O'Regan
Grace and peace, I hope this note finds you well.
As you would be aware the Premier announced on Friday, 24th July 2020 further information regarding the numbers permitted to gather for funerals and weddings.
As of 12.01am, Wednesday, 29th July 2020 the numbers are capped up to 100 people maximum for individual funerals and weddings provided your Mass Centre has the necessary capacity as per your COVID Safe Plan.
20200724 004 L POR re funerals and weddings.pdf

24 Jun 2020
New regulations
Message from Archbishop Patrick O'Regan
The Premier announced on Monday, 23rd June 2020 the further relaxation of restrictions regarding the numbers permitted to gather in places of worship.
The new regulations that immediately pertain to us include:-
From Monday 29th June 2020, maximum density requirements with the new 1 person per 2 sqm, will apply for our churches. Correct spatial measurement of your church will assist you in determining the maximum number of people you will be allowed in your space.
20200612 001 L POR - new regulations.pdf

23 Jun 2020
Guidelines for the celebration of the Eucharist and the distribution of Holy Communion
Entry to the church – Singular entrances to church are suggested, with the use of a different exit where possible.
Sign in sheets – Please ensure you are collecting the names of those attending your churches. A shared pen can be used so as long there is sanitiser placed near the sign-in sheet and people are sanitising their hands both before and after the use of the pen. Because of privacy concerns the details would best be collected on individual sheets to ensure the privacy of those visiting the churches and placed in a secure box. Alternatively you could consider encouraging the use of their own pen or an online registration system.
Frequency – The number of Masses could be increased to ensure greater access to communion by members of the community. (Note, however, that three is the maximum number a priest can celebrate Vigil/Sunday. On weekdays a second Mass may be celebrated for a genuine pastoral reason e.g. a funeral or wedding.)
Access – Parishes will need to work out methods that work for them to ensure an equitable access to available Masses. Rotation rosters could be considered. Parishes must not exceed the maximum number of people permitted on their premises.
12 May 2020
Places of Worship
Step One Fact Sheet
Following the limited reopening of churches, we are continuing to work with government and other church leaders to achieve every best possible outcome for our faithful, while also not transgressing government directions and ensuring we are responsible. I am very conscious of the pain our people are feeling at not being able to receive the Eucharist but we also need to be mindful of the devastating impact of COVID-19 and the need to be cautious and vigilant. - Bishop Greg O'Kelly SJ
Places-of-Worship-Step-1-Fact-Sheet-9-May.pdf

08 May 2020
Re-opening churches
Bishop Greg O'Kelly SJ
As you would be aware the Prime Minister and South Australian Premier made several announcements this afternoon, some in relation to the re-opening of churches. Of particular note is our own South Australian Premier detailing specifics effective Monday, May 11, 2020.
Circular - re-opening churches.pdf

23 Mar 2020
Latest protocols
Fr Philip Marshall, Administrator Delegate
Please find latest protocols relating to the Coronavirus in the circulars below.
Circular - Updated New Regulations 122 25320.pdf

Circular - New regulations 118 23320[2].pdf

21 Mar 2020
Online prayer and worship resources
Our Church in South Australia and beyond faces an extraordinary situation when for the first time in our history Mass will not be celebrated in our parish churches, until further notice.
We will be updating this section to provide you with a range of online resources for prayer and worship - click here.
19 Mar 2020
Temporary suspension of Masses and public liturgies
The Prime Minister has announced that non-essential indoor gathers are to be limited to 100 people and outdoor events of more than 500 are prohibited. Given the serious nature of the Coronavirus, as a community we are to support these measures as responsible and sensible.
Circular - Protocols re Coronavirus _ 112 190320.pdf

19 Mar 2020
Catholic Masses in SA suspended
Media Release | Thursday March 19 2020
The Catholic Church in South Australia has suspended the celebration of all Mass services and other major liturgical events. This follows advice from health authorities and the Federal Government's decision to ban any gatherings of more than 100 people due to COVID-19. The temporary suspension of worship in Catholic churches across the State includes Holy Week and Easter celebrations such as Holy Thursday Mass, Stations of the Cross on Good Friday, the Easter Vigil and Easter Sunday Mass.
Media Release - Church response to COVID-19 March 19 2020.pdf

13 Mar 2020
Guidelines for preventing the spread of Coronavirus
A number of questions have arisen concerning Holy Week, visiting the sick and collections. I am sure that commonsense and prudence of the priests and deacons will ensure that everything is done to contain the possible spread of the coronavirus. We have taken advice on these items from infectious disease control specialists.
Circular - Guidelines for preventing the spead of Coronavirus 097 120320a.pdf

03 Mar 2020
Protocols re Coronavirus
At present there is no indication of the spread of coronavirus in South Australia. This offers us time to consider how we might respond to the virus before any urgency arises, and to play our part in preventing spread in the community. After extensive consultation with medical experts, and in order to be well prepared I am implementing the following guidelines effective from this coming weekend, Sunday March 8.
Circular - Protocols re Coronavirus 086 3320.pdf