COVID-19 Pastoral Handbook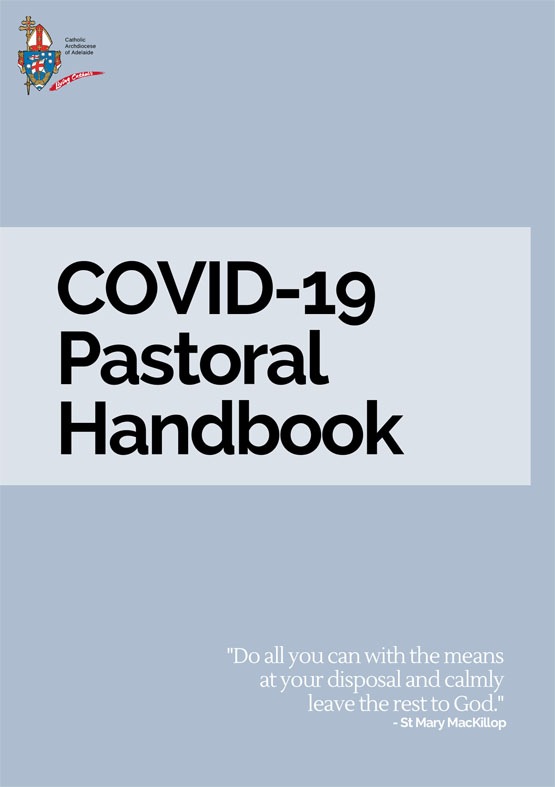 'Connection with others is at the heart of our faith, which is what makes this particular time of isolation all the more difficult for us. How are we to not only stay connected now, but build and grow those connections and develop new ones?'
This handbook contains prayers, reflections, messages, support and resources for the people of the archdiocese. Copies are available in parishes. Feel free to download the pdf below.
Also below is the full and comprehensive list of online resources referred to in the handbook.
COVID19Handbook_20May20_V7.pdf

Support
Pastoral Care
For Parents:
---
Connection
Bible Study resources for home use
St Paul Center for Biblical Theology
Various Bible Study programs on Gospels, Books and Letters in the Scriptures and also biblical themes such as the Covenant, the Mass, Mary etc.
Formed.org – a paid subscription streaming service (described as Catholic Netflix). It has Catholic themed movies, catechetical programs, access to live-streamed Masses and prayer.
Understanding the Scriptures – 30 part podcast serving as an introduction to Scripture study.
The Great Adventure – online Scripture studies of individual books, letters and Gospels.
The Bible Project – free online resource for learning about the bible, it's a resource both for parts of the bible and themes within the bible.
Learning the Faith/Catechesis
---
Liturgical Resources
Living With Christ – Daily readings and reflections – free during COVID-19.
Loyola Press – Sunday Connection – readings and reflection for each Sunday.
Sunday Homilies:
---
Prayer
Families
Family and Parish Based Catechesis Office – During this time resulting from the COVID-19 when Sunday Masses are not occurring, you are invited to gather as a family for communal prayer each Sunday based on the Liturgy of the Word for that day. Let us reflect personally and as a community on the Word of God so that it may echo within our heart and bear fruit in our lives
Teaching Catholic Kids – Resources for families praying at home
---
Apps for Prayer
Sharing these with friends and family, and maybe connect on a video chat or over the phone to do engage in prayer, study and discussion together.
PRAY AS YOU GO (DAILY PRAYER AND RETREATS)
3 MINUTE RETREAT
GIVE US THIS DAY (DAILY PRAYER, REFLECTIONS AND MASS READINGS)
EXAMEN (PRAYER)
LAUDETE
UNIVERSALIS - LITURGY OF THE HOURS AND MASS READINGS (PAID)
HALLOW - GUIDED PRAYER
COMMON PRAYER FOR ORDINARY RADICALS (Ecumenical)
Podcasts (on Spotify)
*"Search for these programs wherever you listen to podcasts (i.e. Apple Podcasts, Spotify, Stitcher, Soundcloud, etc.)
Arch D Radio (Spotify link):
Catholic Influencers Podcast (Spotify link):
Jesuitical (Spotify link):
Centacare (Soundcloud Link)
Parishes of Adelaide Podcast (Link)
Corona of Thorns Podcast
Liturgy of the Word, homily and Spiritual Communion produced each day. Produced by the Brooklyn Park/Richmond Catholic Parish. Available through Apple Podcasts, Google Podcasts, Stitcher, Spotify, Pocket Casts, Castbox, Breaker
---
Websites and Videos for Prayer and Discussion