21 Jan 2021
Funeral for Archbishop Philip Wilson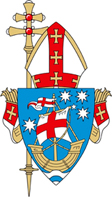 Media Alert - Thursday January 21 2021
Funeral of Archbishop Philip Wilson
The Funeral Mass of Archbishop Philip Wilson will be celebrated in St Francis Xavier's Cathedral at 11am on Wednesday February 3.
The Mass, to be livestreamed via www.adelaide.catholic.org.au, will be celebrated by Archbishop Patrick O'Regan with bishops and clergy from around Australia concelebrating.
A Vigil Mass will be held on Tuesday February 2 at 7.30pm in the Cathedral and there will be an opportunity for people to pray in the presence of the coffin from 2pm to 6.30pm.
Due to COVID restrictions, the Vigil Mass and Funeral Mass are invitation only and bookings are required for prayer in the presence of the coffin.
Archbishop Wilson served as Archbishop of Adelaide from 2001 to 2018 and as Bishop of Wollongong for four and a half years during 45 years of priestly ministry.
He died in Adelaide on Sunday January 17 at the age of 70.
Born in the Hunter region of New South Wales, a young Philip Wilson attended St Joseph's Hunter Hill before studying at St Columba's College, Springwood, and St Patrick's College, Manly. He was ordained a priest of the Diocese of Maitland-Newcastle in 1975.
He served as president of the Australian Catholic Bishops Conference for three consecutive terms from 2006 to 2012. Archbishop Wilson had suffered a series of health problems in recent years, including cancer.
A memorial page is available at http://siebert.com.au/notices/most-rev-philip-wilson/
For media coverage details, please contact Jenny Brinkworth on 0438 727 677 or jbrinkworth@adelaide.catholic.org.au.
MR Funeral Philip Wilson.pdf