15 Dec 2017
Statement from Vicar General Fr Philip Marshall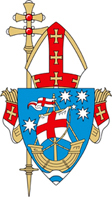 December 15, 2017
Statement on the final report of the Royal Commission into Institutional Responses
to Child Sexual Abuse
The Royal Commission findings released on Friday demonstrate very clearly that over many decades the institutional responses to child sexual abuse have, for the most part, been abysmal. Throughout the five years of the Royal Commission we have heard stories of extraordinary courage and resilience that have inspired us. The survivors of abuse have had to relive their own experiences and listen to the stories of so many others. We have heard shocking accounts of abuse, and testimonies of inadequate responses. It is only through our listening to the personal stories of survivors that we have come to understand what so many other children have been through. Listening to those stories is heartbreaking. They are stories of betrayed trust, of hopelessness about one's value and future, and despair at the disbelief or indifferent response of those with responsibility in the Church and other institutions.
To express our deep sorrow for all of this is essential, and yet not nearly enough. Each of us is called to a deep conversion of mind and heart and, where it is possible, a humble invitation to sincere reconciliation. Many have been so profoundly hurt that they will not be able to find a way to trust the Church again. For others who seek a return to the faith which once nurtured them we have a responsibility to open our hearts in reconciling embrace.
Beyond that we continue to be committed to develop practices and a culture that will create a community for children and vulnerable people to be safe and at the centre of everything we do. We commit ourselves to maintaining and continuously improving our regular mandatory training of clergy, religious, workers and volunteers in awareness and practices for a child safe church. We commit ourselves to the ongoing work of our Child Protection Unit who now audit every parish and community for child safe culture and practice, and offer training, resources and support to develop parishes and communities which are safe for children and vulnerable people. We commit ourselves to ever more vigilant processes for the recruitment, assessment and formation of all people who seek to serve the Church as ordained ministers or as employees or volunteers. We recommit ourselves to complaints responses through our Professional Standards Office that are ever more child and survivor focused. We commit ourselves to the project we have just begun of a best practice approach to the ongoing professional development and supervision of clergy in the Archdiocese. We commit ourselves to engage in dialogue with those who have responsibility for the formation of seminarians to ensure a safe and healthy culture among those who seek ordination. We commit ourselves to respond wholeheartedly to the recommendations of the Royal Commission.
Our deep and profound sorrow for all who have been hurt by Ministers and employees of the church will be backed by a concrete and measurable transformation to our practice and culture that will express our firm commitment to develop a thoroughly transformed Church into our future.
Statement from Vicar General Fr Philip Marshall.pdf