01 Aug 2022
Decrees ready for Rome
The Southern Cross August 2022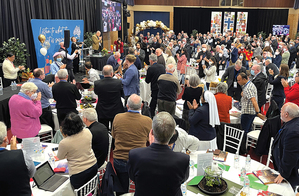 During the second assembly of the Fifth Plenary Council of Australia, more than 35 motions were put to a consultative and a deliberative vote.
Those motions that received a qualified majority in the deliberative vote were passed by the Plenary Council. They were confirmed as the decrees of the Plenary Council (summarised below). After the November 2022 meeting of the Australian Catholic Bishops Conference, the decrees will be sent to the Apostolic See for review.
RECONCILIATION: HEALING WOUNDS, RECEIVING GIFTS
Each Catholic school, parish, diocese, eparchy or organisation will:
acknowledge in a prominent and appropriate manner the Traditional Custodians of the land upon which their buildings stand;
include an online cultural competency course in the orientation and ongoing formation of staff and volunteers to enable more effective and appropriate ministry;
ensure that any retreats and other formation activities offered are culturally appropriate;
work actively to include Aboriginal and Torres Strait Islander people on its committees, boards and decision-making bodies.
The advisory councils of the Bishops' Commission for Liturgy, in partnership with the National Aboriginal and Torres Strait Islander Catholic Council, will develop options for the liturgically and culturally appropriate use of Aboriginal and Torres Strait Islander symbols and rituals in Catholic liturgical contexts, with respect for the diversity of Aboriginal and Torres Strait Islander cultures.
CHOOSING REPENTANCE – SEEKING HEALING
To express more fully the aims of the annual 'Safeguarding Sunday', in consultation with those who have been harmed by abuse:
a new name will be adopted for 'Safeguarding Sunday';
the Bishops Commission for Liturgy will develop appropriate rituals and liturgical resources to be offered to parishes for use on the day.
CALLED BY CHRIST – SENT FORTH AS MISSIONARY DISCIPLES
Those responsible for Catholic schooling and early childhood education, in consultation with representatives of Catholic parents' groups and parish-based organisations, led by the National Catholic Education Commission, establish a national forum, which will seek to:
identify and respond to the needs of the diverse and distinct circumstances of Catholic schools in Australia;
build partnerships which enhance the vision of Catholic education as an instrument of evangelisation and an essential dimension of the contemporary mission of the Church;
offer a process for critical reflection and discernment of the vocation of Catholic education today;
support formation opportunities for catechesis, faith formation, leadership development and religious education pedagogy;
assist parish engagement with schools and young people.
The Bishops Commission for Social Justice, Mission and Service establish a triennial national forum of Catholic social service, health and aged care, disability, prison ministry, refugee and asylum-seeker, and justice, ecology and peace organisations and representatives of those served by these organisations; and that the purpose of this forum include:
providing opportunities for dialogue that will contribute to the ability of the Church in Australia to attend to 'examining the signs of the times and interpreting them in the light of the Gospel';
identifying and exploring priorities for evangelisation through outreach, service provision, advocacy and formation;
addressing gaps;
seeking opportunities for collaboration;
informing the development of local social teachings to be issued by the Australian bishops.
That each diocese and eparchy identify ways of promoting appropriate ecumenical and interfaith initiatives.
That the Bishops Commission for Christian Unity and Inter-religious Dialogue – in collaboration with Catholic tertiary institutions and theological associations – provide guidance, advice and resources to dioceses and eparchies for ecumenical and interfaith dialogue and relationships, and formation.