05 Feb 2021
Holy Spirit brings two soul mates together
The Southern Cross - February 2021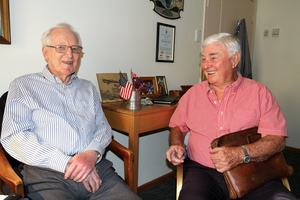 The Southern Cross | February 2021
Holy Spirit brings two soul mates together
A modest bedroom in an aged care home in Warradale might seem an unlikely place for a discussion on the future of the Catholic Church in Australia but for 98-year-old Milton Howard it is simply a case of the Holy Spirit at work.
How else would he explain a visit from retired business leader and committed Catholic Graham Spurling and their ensuing conversations about the forthcoming Plenary Council.
When Graham, a Brighton parishioner, went on the roster for dispersing the Eucharist to Catholics who can no longer attend Mass, one of the people on his list at Japara Aged Care Home was Milton.
It didn't take long before the two men discovered they had much in common; not only are they both connected to the Brighton parish and the Sacred Heart College community, both grew up in working class west Adelaide and while Graham is a former CEO of Mitsubishi and widely recognised for his contribution to the automotive industry, Milton was part of the advertising team on the Chrysler account and had a stellar career in television and radio advertising.
It doesn't stop there. The two men have spent a lot of time in the United States and have a great fondness for the American people. Milton served in the Royal Australian Air Force in Darwin, the UK and Germany while Graham has had a long association with the Army Reserve.
Since their first meeting about three months ago, the two have established a mutual respect and kinship that involves some deep and meaningful exchanges about their faith.
Graham showed Milton a summary of the discernment paper on the theme 'A Church that is open to conversion, renewal and reform', prompting Milton to write down some thoughts (see opinion piece page 7).
Born in Rose Park, Milton said he was a "lost child in a broken marriage" and the Church "came to my rescue".
He moved with his mother to his grandparents' house at Torrensville and attended St John the Baptist School which he described as "fabulous".
"I was just a dreamy, lost kid, I didn't know what my future was," he said. "Those Brothers were very kind and good, they taught me things I still remember today.
"Anyway I got lucky, my mother remarried and I won a scholarship to CBC."
Determined to be a writer, he hounded the editors of Adelaide's two daily newspapers but eventually was told he would be better suited to writing advertising copy and was introduced to Maurice McClelland, the new "genius" in town.
"Suddenly I was working on three big radio shows a week…I was only 17 or 18 but working in radio gave me an introduction to all sorts of celebrities.
He soon left to serve in the Second World War and was assigned as a mechanic to the Spitfire Squadron, firstly in Darwin and then in England and Germany for four years.
"I met these wonderful larger than life people, they impressed me no end," he said.
"It opened my eyes to another world out there."
On his return he resumed his advertising career and married his childhood sweetheart, Barbara Patterson, daughter of the harbour master at Edithburgh.
They built a house on Shepherds Hill Road, Eden Hills, and had two sons, both of whom went into the TV industry, and two daughters.
During his working life, Milton spent time in Sydney and Melbourne, where he completed the first television production course at Royal Melbourne Institute of Technology. He was a consultant to Channel 7 Adelaide and a promotions director at Channel 9 before taking on a public relations role with the SA Institute of Technology.
He is a lifetime fellow of the Advertising Institute of Australia and won the PanAm Award for 'best TV commercial selling SA as a tourist destination'.
Barbara was baptised a Catholic in Melbourne and, according to Milton, "turned out to be a better Catholic than me".
He said his own faith grew in importance when the family became involved with the "little convent school" at Brighton.
"That was a changing point," he said, proudly adding that it was at
St Teresa's School that he started the first baseball team.
Despite working in the fast-moving and materialistic world of advertising, Milton said he was "respected for my religion".
"I don't think I was too materialistic, I was a romantic idealist," he added.
His passion for America led to his involvement with the Adelaide-Austin sister city project and he was a member of the Australian-American Association.
He recalled Fr Bob Wilkinson telling him once that he was "more American than Catholic".
But Milton insists that he is equally fervent about his faith. "I feel strongly about it, I reckon I picked it up by reading these little booklets by a guy – a Jesuit writer in America, Fr Daniel J Lord, he used to write these little books about the church in everyday life…applying Christianity to daily life, that impressed me no end, I think that maybe influenced me more than anything."
He also disputes the theory that you can't be a true Catholic if you are wealthy. "Rich Catholics are very attractive people when functioning properly, and put their hands in their pocket," he said pragmatically.
"I think of Kevin Crease (Ch 9 newsreader), we were attracted to each other because we were defensive Catholics."
Milton has a great admiration for priests, referring to a time during the war when four men died and the unit was in disarray.
"We lost four guys in one night and that hit the squadron team very badly; this scruffy old padre who took bets on the side, he took charge of the whole situation in a very manly way," he recalled.
"It was as if we'd been visited by some out of space person, this no-hoper, joker Catholic priest became a hero."
Milton's "sharp intellect" is what prompted Graham to ask him to review the first Plenary discernment paper.
"We haven't listened to people like him (Milton)," Graham said.
"The Holy Spirit is working in this man.
"I hear everyone (in Japara) saying 'he's a lovely man, a very clever man' – everybody loves him."
Captions
BUSINESS OF FAITH: top - Milton Howard (left) and Graham Spurling chatting at Japara Aged Care Home, Oaklands Park; Milton during his days as a successful advertising executive.