02 Sep 2021
Providing voice at youth at Plenary Council
The Southern Cross September 2021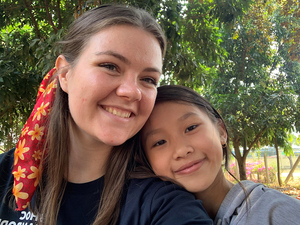 The Southern Cross | September 2021
Providing voice of youth at Plenary Council
With less than a month until the opening session of the Fifth Plenary Council assembly, lay member Maddy Forde is speaking to as many young people as possible to ready herself for her involvement in the process.
Originally she had planned to undertake these conversations face-to-face, but as the Plenary journey has demonstrated, people have had to adapt to the realities presented by COVID.
Last month organisers of the assembly were forced to change the format of the gathering, announcing that with large parts of the country in lockdown it will now be staged wholly online.
Bishop Shane Mackinlay, the Plenary Council's vice president, said the Council journey had adapted to changing circumstances because of COVID – and was adapting again.
"Just as there was disappointment in needing first to postpone the assembly and then to move to regional hubs, the likelihood that most members will now join the assembly from their home is not what we had planned and hoped for," he said.
"We know, though, that the Holy Spirit can and will work through this assembly, just as the Spirit has led us over the past three-and-a-half years."
It is expected that in some areas not affected by lockdowns members will gather in small numbers for prayer, fellowship and socialising, as the experience of provincial hubs would have provided.
For Maddy, not being able to travel back to Adelaide to be with other local delegates is a blow but she is coming to terms with it.
"To be completely honest in how I am feeling, the last couple of months haven't been the ideal preparation," she admitted.
"When I moved to Sydney for work, I carried the hope I could fly home and be involved in any events/conversations, in order to be a committed delegate for Adelaide. The reality of not being able to go home, surrounded by familiar faces and having those important conversations in company of other delegates, has been hard to accept.
"But I know it's the reality of our world and regardless the work going into making this process a significant, valuable and authentic conversation is tremendous.
"What I can best do, and I am trying to do, is engage in those conversations with young people far and wide through virtual/online means. I know that these conversations will ground me, and be an anchor for the process to come."
Maddy said she had initially nominated to be one of the Adelaide Archdiocese's lay members so she could represent the views of young people in the Church.
"As a women who has grown up in the Church, been involved in youth groups and walked alongside young people daily, I felt it was important that our voices were heard," she said.
"As I have realised working alongside young people, we have a lot to learn from them so I think it's important that we are recognised as having wisdom in new ways. This concept of two-way learning, and two-way listening, is extremely important."
The 25 year old said some of the "important" topics to be discussed at the assembly included embracing diversity more, the significance of spirituality from First Nations people, the ecological conversation, future social services and recognising the gifts everyone brings to the table.
"I recognise my privilege and how fortunate I am in this life, so as an ally for those on the margins, it's important to me that regardless of the issue/topic there is consideration of inclusivity, welcoming, safety and love underlying everything," she added.
Growing up in Adelaide, Maddy attended the Brighton parish with her family and was involved in a variety of youth groups.
"The most significant one for me was the Remar Program at Sacred Heart College as this is where I learnt about ethical volunteering," she said.
"This means volunteers walk alongside those on the margins, allowing them agency and a voice whilst passionately supporting from the side."
After graduating from Sacred Heart she worked in youth ministry at the college for five years, before moving to Sydney in October 2020. There she is the campus pastoral associate at ACU and is also studying social work.
Maddy said her Catholic faith has always been her guide, but said it wasn't always perfect.
"I describe my spirituality as like a Where's Wally? book," she laughed.
"The first couple of pages are really easy to find Wally, but as you travel through the book (life) it gets harder and harder to find Wally, but yet you continue to seek until you do find him.
"When you do there is that excitement, pride, the feeling of peace through all the frustration, the stress and the uncertainty – there's assurance you're on the right path."
The Plenary Council's first Assembly will run from October 3 to 10. There are plans for the public livestreaming of parts of each day and some liturgies. For more information go to www.plenarycouncil.catholic.org.au