01 Oct 2021
Your guide to the Plenary Council
The Southern Cross October 2021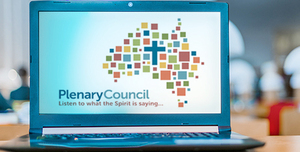 What is a Plenary Council? – A Plenary Council is the highest formal gathering of all local churches in a country. The last Plenary Council in Australia took place in 1937.
Why are we having it? – There are many reasons for having a Plenary Council: Pope Francis has invited the local Church to dialogue; the contemporary society of Australia has changed significantly; and the Royal Commission into Institutional Response to Child Sexual Abuse has been a significant and influential event that requires deep consideration and response.
How do I follow the Plenary Council? – Parts of the first general assembly of the Fifth Plenary Council of Australia are being livestreamed and can be viewed at the Plenary Council website www.plenarycouncil.catholic.org.au
This includes the opening Mass in Perth on October 3 (1.30pm Adelaide time), daily Mass (9am) and part of the morning sessions of the assembly (from 10.30am Adelaide time). The closing Mass in Brisbane on Sunday October 10 will also be livestreamed at 10.30am.
Updates from the general assembly will be provided via the Plenary Council social media sites and Catholic media channels including The Southern Cross (www.thesoutherncross.org.au)
How can I pray with and for Council members – The Plenary Masses being celebrated online allow people across the country to join in common prayer and worship with the members. Mass booklets for each service are available on the website www.plenarycouncil.catholic.org.au
Where people can gather for Mass, the same prayers, readings and musical suggestions used for the Plenary Council Masses can be downloaded for use in each parish across the country.
In addition, groups and individuals are encouraged to pray the Plenary Council Prayer (pdf below):
Come, Holy Spirit of Pentecost.
Come, Holy Spirit of the great South Land.
O God, bless and unite all your people in Australia and guide us on the pilgrim way of the Plenary Council.
Give us the grace to see your face in one another and to recognise Jesus, our companion on the road.
Give us the courage to tell our stories and to speak boldly of your truth.
Give us ears to listen humbly to each other and a discerning heart to hear what you are saying.
Lead your Church into a hope-filled future, that we may live the joy of the Gospel.
Through Jesus Christ our Lord, bread for the journey from age to age. Amen.

Our Lady Help of Christians, pray for us. St Mary MacKillop, pray for us.

Who is representing the Adelaide Archdiocese? – There are 278 members from across Australia participating in the two Assemblies of the fifth Plenary Council – in October 2021 and July 2022.
Adelaide Archdiocese members: Monica Conway, Ian Cameron, Kiara Ryan, Archbishop Patrick O'Regan, Madeline Forde, Julian Nguyen, Fr Philip Marshall.
Other local members include: Emeritus Bishop Gregory O'Kelly SJ, John Lochowiak (Aboriginal Catholic Ministry), Claire Victory (St Vincent de Paul Society).
Expert adviser: Fr James McEvoy
The numbers: – 278 members, 20 expert advisers (periti), 1 Canonical committee, 1 drafting committee, 1 steering committee, 1 secretariat, 1 facilitators, 7 chairpersons, 5 observers, 1 president, More than 150 volunteers and support staff…will gather virtually to commence the celebration of the Fifth Plenary Council of Australia.
Spiritual conversations – what are they? –
A key component of the Plenary Council's assemblies will help members to consider the 16 questions that make up the Council agenda. Each day, some of those questions will be the focus of small group discernment, with about 10 members engaging in what is known as 'spiritual conversations'.
Br Ian Cribb SJ, who led a retreat for the Australian Bishops in 2019, says the ultimate source of this practice is Scripture, in which we see countless examples of important conversations and moments or periods of discernment. Such examples begin in Genesis and run throughout the Old Testament. In the Gospels, we read of many important conversations Jesus has, including with the Samaritan woman and the rich young man.
How does this differ from other processes used for decision-making?
Br Cribb says the critical role that prayer plays in the various aspects of the spiritual conversations is an obvious difference from some other processes.
But it's also the disposition that we have to ourselves and to others with whom we are entering into this conversation. We come to the conversation praying for an inner freedom to engage with the process.
We work from the premise that the Spirit of God is at work in the world, in the Church, in our mission and in every person. Our desire is to see what the Trinity is trying to do in the world today and to better collaborate in God's mission. By doing that, we are entering into spiritual conversations.
Without prayer, discernment is empty; we remain in our heads.
Like all conversations, the critical components are speaking and listening. It is intentional speaking and intentional listening that can create the necessary environment for a genuinely spiritual conversation.
As part of a group, each person will do more listening than talking. That listening should be welcoming and non-judgmental. There should be a sense of respect for and trust in each other.
There will be a chance for the groups to look at the pros and cons of the topic being discerned and to report back to a larger group, and then ultimately the whole group of members, sharing the fruits of their conversation.
For more information and updates on the Plenary Council general assembly visit www.plenarycouncil.catholic.org.au
Plenary-Council-Prayer-Card-Print-at-Home.pdf