01 Oct 2021
Local theologian among advisers
The Southern Cross October 2021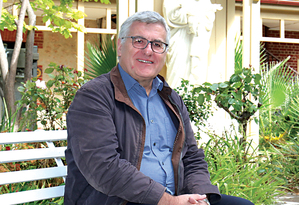 Adelaide priest and theologian Fr James McEvoy (pictured) has been named as one of 20 advisers for the Plenary Council.
He will be joined by South Australian-born Columban priest Fr Patrick McInerney.
The advisers, described as some of the country's leading Catholic thinkers, have been engaged to support the members as they gather for the first general assembly this month.
As happens with international gatherings, including at the Second Vatican Council, participants are able to seek guidance from a group of advisers. Their expertise covers a broad range of disciplines, including theology, philosophy, ethics, ecclesiology, education, liturgy, governance and social justice.
Plenary Council president Archbishop Timothy Costelloe SDB said while there are experts across many fields within the approximately 280 members, the additional advisers – sometimes known by the Latin term periti – will be there to nourish and deepen the existing knowledge base in a special way.
Seven chairpersons have also been selected to guide the work of the Plenary Council and facilitate members' conversations when they gather as a full group. In accordance with the Plenary Council's Statutes and Regulatory Norms, the chairpersons are chosen from among the members and appointed for the duration of the celebration of the Plenary Council.
Nichii Mardon (pictured below), director of Catholic Education SA in the Diocese of Port Pirie, is one of the chairpersons. The others are: the Hon Jacinta Collins, Executive Director, National Catholic Education Commission; Rev Thomas McDonough CP, Provincial Superior of the Passionists; Br Paul O'Keefe FSP, Provincial Leader of Patrician Brothers; Very Rev David Ranson, Vicar General Broken Bay Diocese; Theresa Simon, Maronite Catholic Eparchy of Australia; and Monica Cavanagh rsj, Congregational Leader of the Sisters of St Joseph.
Plenary Council facilitator Lana Turvey-Collins said the chairpersons have been taking part in formation and training workshops to collaboratively navigate the challenges inherent in chairing a gathering of 280 people and ensure the best possible experience for all.
"Each chairperson will lead a plenary session once during the first general assembly," Ms Turvey-Collins said.
"They also form part of the Plenary Council Steering Committee, so will have an ongoing role in shaping the agenda and program in response to the daily discernment and dialogue of the members."