Frances Margaret McGuire
20.5.1900 - 14.8.1995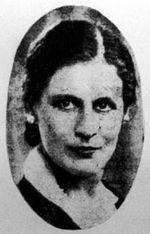 Frances Margaret McGuire's remarkable life cannot be encapsulated in any one description; she was a scientist, an author, a diplomat, a benefactor and champion of Catholic social teaching.
Her bequest to the Catholic Resource & Information Service reinforces her attitude towards the importance of libraries as a means of knowledge acquisition in the process of Catholic education.
Margaret, as she was commonly known, was born into a wealthy Protestant family of Scottish-English parentage in 1900 at Glenelg. After a childhood of home tutoring and European travels she attended Adelaide University where she graduated with an Honours degree in Science. As a biochemist Margaret worked in the Adelaide University laboratories at the time when Adelaide was a world leader in insulin research.
In the late 1920's Margaret converted to Catholicism and in 1927 married Dominic Paul McGuire. Mrs McGuire was quoted as saying, in 1995 'I am still a new Catholic, full of enthusiasm for my faith'. Directly after their marriage, the McGuire's travelled to England where they were actively involved in the Catholic Evidence Guild and the Catholic Literary Movement. Mrs McGuire gave up her career as a biochemist for the life of travel, diplomacy and work as a Catholic layperson.
On their return to Adelaide in the early 1930's the McGuire's co-founded the Catholic Guild for Social studies and were instrumental in the development of the Fisher & Moore Library, a forerunner of the Central Catholic Library (1941) that was in 1987 incorporated into the Diocesan Resource Centre. The McGuire's regularly travelled to Europe & America where they were involved in Catholic Action and for a time Paul McGuire was the Australian Ambassador to Italy.
Margaret was decorated for public service by the Australian and Italian Governments, she was the author of 10 books, including an autobiography of the first 14 years of her life, a detective novel, two officially commissioned Australian Navy histories and she was actively involved in many associations and societies.
Margaret McGuire's interests included a passion for social justice. Her life was packed with interests, events and achievements.
Life be in it
All our lives, said the aged,
We've been with it engaged
Usefully to employ it, often to enjoy it,
Now lets all be in it
To the last precious minute.
(M.McGuire c.1994)
Opening Ceremony Plaque - June 5, 2001
This plaque was blessed and placed on the mezzanine level of the building as part of the Opening Ceremony.
The Catholic Resource and Information Service
is the proud recipient of a bequest
from the Legacy Estate of Margaret McGuire.

Read at the blessing and opening of CRIS, the following quote captures the philosophy of Paul and Margaret McGuire

"We must speak the truth which has been made known to us;
we must love one another; we must serve one another;
we must pray for each other."