Australian Catholic University
Adelaide Campus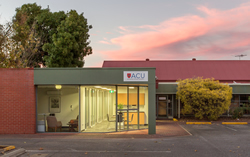 The Adelaide Campus of the Australian Catholic University was established in 2013 when the University and the Archdiocese of Adelaide entered a partnership to deliver theological education in South Australia. The Catholic Theological College of SA was absorbed into ACU's Faculty of Theology and Philosophy.
Theological courses being offered at the Adelaide campus by ACU include:
Graduate Certificate in Theological Studies
Graduate Diploma in Theological Studies
Master of Theological Studies
Master of Professional Studies (Theology)
Master of Theology
Doctor of Philosophy.
ACU's postgraduate degrees in Religious Education and in Educational Leadership will continue to be available.
Contact us:
Either Phone: 03 9953 3986 or 08 8234 7462 (SA residents only) OR Email
Hours of operation: Monday to Friday - 9:30am to 5:30pm.
116 George Street, Thebarton South Australia 5031
PO Box 412, Torrensville Plaza SA 5031
For more information on the ACU, visit www.acu.edu.au