Archbishop Patrick Michael O'Regan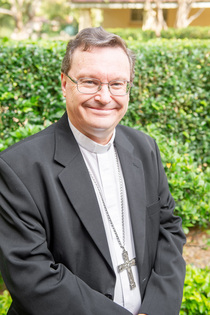 Patrick Michael O'Regan was born in Bathurst NSW and grew up in Perthville NSW, a small rural village 10km south of Bathurst, on Wednesday October 8, 1958.
His parents, the late Colin Michael O'Regan and the late Alice Daphne O'Regan (nee Dulhunty) raised four children, Stephen, Laurence, Patrick and Louise.
He was educated at St Joseph's Primary, Perthville by the Sisters of St Joseph, and at St Stanislaus Secondary College, Bathurst, by the Vincentian Order. He studied for the priesthood at St Columba College, Springwood, and St Patrick's College, Manly, before being ordained a priest for Bathurst Diocese in 1983. He served as assistant priest at Lithgow, Cowra, Orange and Bathurst before undertaking higher studies in France in 1994-95.
Fr O'Regan returned to Orange as assistant priest for three years, before being appointed parish priest of Wellington where he served until 2002 when he again undertook higher studies in France, obtaining a Licentiate in Liturgical and Sacramental Theology from Institut Catholique de Paris.
He returned to the Diocese of Bathurst in 2003 and served six years as parish priest of Blayney, before being appointed Diocesan Administrator following the retirement of Bishop Patrick Dougherty in November 2008.
When Bishop Michael McKenna was installed in June 2009, Fr O'Regan become Diocesan Chancellor and in 2010-14 was Dean of the Cathedral and was appointed Vicar General in 2012.
Fr O'Regan was a member of the National Liturgical Council and the diocesan coordinator for the ongoing formation of priests and permanent deacons.
He was appointed ninth Bishop of Sale by Pope Francis on December 4 2014, the 51st anniversary of the declaration of Sacrosanctum concilium, the Constitution on the Sacred Liturgy.
On 19 March 2020, Pope Francis announced that he had translated Bishop O'Regan to the Archdiocese of Adelaide as its ninth Archbishop.
His installation took place in St Francis Xavier's Cathedral on Monday May 25.
Archbishop O'Regan's interests are pastoral liturgy and the theology of the Eucharist, and his love of music and singing voice are well-known. He has also been involved in adult education formation, lecturing in religious education at the Charles Sturt University's Bathurst and Dubbo campuses, and at the Catholic Institute of Sydney.