21 Mar 2022
Marian Procession - Sunday May 22, 2pm
Adelaide Showgrounds - date claimer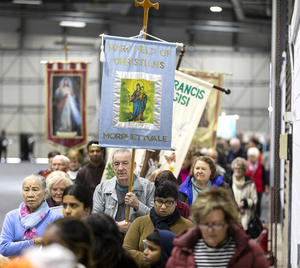 Dear Sisters and Brothers,
Re: Marian Procession Date Claimer: Sunday, 22 May 2022 at 2.00pm
Grace and peace, I hope this note finds you well.
Each year the Archdiocese hosts the annual Marian Procession in honour of Our Lady. This event has been running for almost 75 years and is one of the longest standing consecutive events in the Australian Catholic Church.
This year, in support of our Ukrainian brothers and sisters, the image that will lead our procession is Vyshhorodska - Mother of God carried by the Ukrainian Community in Adelaide.
I ask that each parish be represented behind their banner and Parish Priests encourage as many parishioners to attend as possible. Assembly of Parishes will begin at 1.30pm and the procession will follow at 2.00pm.
After a very successful change of location in 2021, the Procession will again be held at the Adelaide Showgrounds. Those who wish to can book in online via this link www.trybooking.com/BPJAN. The Procession will take place in the Main Arena however if the weather is inclement, the procession will be moved to the Wayville Pavilion.
We appreciate your support and participation in the event.
In Domino, Archbishop Patrick O'Regan
20220318 004 L POR Marian Procession Date Claimer.pdf