22 Mar 2022
Re: Consecration of Russia and Ukraine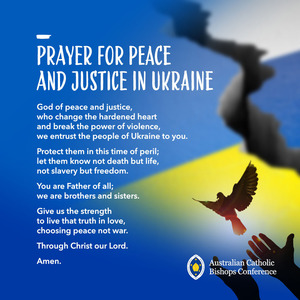 Dear brothers
Re: Consecration of Russia and Ukraine
Grace and peace I hope this note finds you well.
I will join Pope Francis and all the Bishops around the world in the Consecration of Russia and Ukraine to the Immaculate Heart of Mary on Friday, 25th March 2022 at the 5.45pm Mass in St Francis Xavier's Cathedral.
I invite you to you do something similar in your Parish.
The purpose of this time of prayer is to ask for the intercession of the Blessed Virgin Mary before God to bring about peace between Russia and Ukraine, and to implore God's protection upon the millions of innocent men, women, and children whose lives are in danger every day until the conflict ends.
The Australian Catholic Bishops Conference is inviting Catholics in Australia to find time on that day to pray for peace in Ukraine. Archbishop Mark Coleridge, president of the Bishops Conference, said the feast of the Annunciation, when the Church celebrates Mary's "yes" to the call of God, is a good day for the consecration – a day when the world says "yes" to the call of peace.
Please find attached a media release about the consecration and local response. You'll also find attached the Prayer for Peace and Justice in Ukraine, which was circulated late last month, as well as a PowerPoint file containing the prayer, in case that is useful for your context.
In Domino, Archbishop Patrick O'Regan
20220322 003 L POR Consecration of Russia and Ukraine.pdf

Make time to unite with Pope Francis in prayer.pdf

Prayer for Ukraine.jpg