12 Apr 2022
COVID directions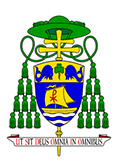 Dear sisters and brothers,
Grace and peace, I hope this note finds you well.
You would be aware that an announcement has been made this morning around the removal of both mask wearing and QR codes effective 12:01am 15th April 2022.
As this Holy Week will see an increase in numbers of people in our churches, I strongly recommend that people are encouraged to continue wearing masks. It is my expectation that priests and anyone carrying out a public role continue to do so. We will continue to review this situation.
We ask that you continue to maintain other hygiene practices:
1. Regular sanitization of hands
2. Continued omission of the Offertory Procession and Collections
3. Strictly no Communion on the tongue
4. Maintaining recommended social distancing e.g. within the Church and whilst going to Communion
The guidelines for for Celebrating Holy Week, which were distributed on the 21st February 2022, continue to apply.
In Domino,
Archbishop Patrick O'Regan

20220412 006 L POR COVID Directions.pdf