18 Nov 2020
Six days of hard lockdown
Restrictions coming into effect midnight tonight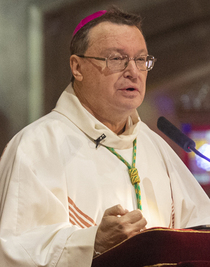 On behalf of Archbishop Patrick O'Regan, I would like to advise some further important information in relation to the announcements made by the Premier Steven Marshall today.
From midnight this evening Wednesday, November 18 2020 we are moving into six days of hard lockdown. The hard lockdown is to restrict movement in the community.
Whilst there was no specific mention of places of worship, as the direction is a six day lockdown, churches are to close effective from midnight this evening. Weddings and funerals are not permitted.
For clarification on funerals, contact should be made with the organising Funeral Director.
Masks will be required outside of the home, which is only permitted to access essential services and grocery shopping.
All schools will be closed, except for those with children who have parents working in essential services.
After this 6 day period a further 8 days of other restrictions will apply. The Government is continuing to develop what this will look like and we will communicate this information as it becomes available.
During this challenging time we ask that you and your communities pray for the wellbeing of each other.
Should you have any additional questions please email Sarah Moffatt, Acting Chancellor at smoffatt@adelaide.catholic.org.au or via phone 0439 218 859.
+Patrick O'Regan
Archbishop of Adelaide