27 Jul 2021
Update on COVID new restrictions in SA
from Wednesday July 28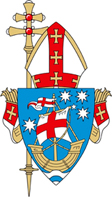 Dear sisters and brothers,

On behalf of Archbishop Patrick O'Regan, I would like to communicate the new restrictions that will come into effect at 12.01am Wednesday, 28th July 2021 regarding COVID-19 restrictions in South Australia. These restrictions will be in place for 7 days.

The current restrictions are:
Places of Worship are restricted to 1 person per 4 square metres.
The wearing of masks is mandatory for indoors places. (Celebrants exempt)
Funeral and weddings are restricted to 50 people provided density requirements are met.
Wearing of masks in parish offices is strongly recommended.
Choirs and Congregational Singing are not permitted. A single singer is permitted.
Recommendation from Archdiocesan Office that tea/coffee after Mass be suspended for the following 7 days.
Further to this we ask that you please contact our office if there needs to be a change of plan in relation to any upcoming Confirmation ceremony. We suggest where possible they go ahead within the current restrictions.
If you would like further assistance please contact Deb Nation and her team at Catholic Health Safety and Welfare on 08 8215 6850.