23 Sep 2021
Archbishop's presentation to the Diocesan Assembly
September 23 2021 - final session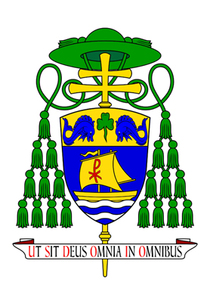 Thursday 23rd September, 2021
Final Evening of the Diocesan Assembly 2021
Dear sisters and brothers in Christ, God is Good, Good Indeed.
A Moment to focus on the face of Christ.
1. Where is God?
Life is lived at such a pace these days that we have, if not lost, certainly misplaced the art of savouring things. One of the benefits of coming together again a few days after the first part of our Diocesan Assembly is that we have had a time to savour what we experienced and let the dust settle a little.
The story goes that little Mary was sitting in religious education class one day. As some of you might remember one form of the Catechism was a series of question and answers. Things were going very well with the correct answer being fired back rapidly to the teacher as every question was asked. It came to little Mary's turn and the teacher asked her the question, "Mary, Where is God?", and with that out she flew out of the classroom and headed straight home and hid under her bed. Her distraught parents came running in and asked, "Mary what ever is the matter?" To which Mary responded, "God's missing and they're blaming me."
Dear sisters and brothers in our Catholic Tradition we have always been happy to name where God is. In our Catholic Tradition we have always believed in the fact that God is present to us in many ways. We have not stopped asking that question "Where is God", ever. God, who is ever faithful, has never stopped responding to us. I think what we experienced last Friday night Saturday answered that question for us.
A central aspect of our faith is that the human person is made for communion; communion with God; communion with our sisters and brothers; communion with our deepest self and communion with the whole of creation. Notice the important connective word 'with'. Sin is where this communion becomes strained, broken, ruptured, misses the mark, stretched. Grace is that which continually and unceasingly draws us back into communion. Each person and community's story is the interplay of these two things. Spoiler alert! Grace wins in the end.
My experience of the weekend is that it was a great moment of grace for us. Every person I met had been touched by this grace. Each had allowed the grace of their baptism to be renewed. Each was more in touch with the call of God, and the call to service and of fostering this communion.
People spoke of the joy of being able to come together as a Diocesan family; of the ability to speak of and to their deep concerns for the church and the world. People expressed their desire to deepen our catholic identity. Such things speak to what we innately know as missionary disciples of Christ, namely, that we are made for communion and are at our best when we are drawn into that four-fold communion. No wonder the Church is called the 'Body of Christ'. St Augustine often would remind us that this term describes both that which is on the altar and those who are around the altar.
People also spoke of those things that fracture, that draw us away from this communion. Sadly there are many, and while this will always be the case in this world, seeking to reduce the number will always be our mission. Thankfully the gathering was a safe environment in which hurts, sadness, disappointments as well as the joys and hopes of each could be expressed.
It is not nothing that week in which the Assembly was held, was always the week of the Equinox. Equal amounts of darkness and light.
1. Hub and spoke
Tonight we have heard something of what those who attended the Assembly have said. These many recommendations are like the spokes on a wheel. For any spoke to be of any use it needs to be connected to a hub. For us the hub is Christ, is the church. As long as we are in communion with Christ and the Church the spokes hold otherwise they fall apart, and we can move forward confidently.
1. As much as I like the stories that Rudyard Kipling wrote his advice in The Winners
Down to Gehenna or up to the Throne,
He travels the fastest who travels alone.
Ought not be ours tonight.
Rather something picked up by Sr Brigette Sipa in the panel last Saturday, moving from 'I' to 'We'. The Australian Author, Tim Winton wrote the novel Cloudstreet in 1991. It is a novel about discovering one's place in the world and the search for meaning. One of the main characters states
"But it's not us and them anymore.
It's us and us and us.
It's always us.
(Section X Turning)
1. Music Festival
Last night I had the joy of being present at the Catholic Schools Music Festival at the Entertainment centre. Among the many excellent items was the singing of a special song to commemorate 200 years of Catholic education. The theme of the bi-centenary is Faith in the Future. I would think that one of the aspects we have celebrated at this Assembly, which concludes tonight might well be because we have Faith in the faithfulness of God; We have Faith in our Future
I was reminded last night that at a concert it is the Conductor who is the only one who does not make a noise.
1. Plenary and 2023 Synod
Lest we think that this only all about us, the timing of our Diocesan Assembly was deliberately placed so that we could in the first place allow our 'Members' who are going to the Plenary to listen to the voices of our people, so as to take those voices with them to the Plenary.
In the second place it invites us all into the Plenary Space. The Plenary begins Sunday week, 3rd of October. I invite you especially in these days with your communities of faith and especially both this weekend and next to pray, as we do each time we pray the Lord's Prayer, "Your will be done."
What we have experienced is the journey that Pope Francis is inviting the whole of the Catholic Church to mark on in the lead up to the October 2023 Synod, For a Synodal Church with the themes: Communion; Participation and Mission. Interestingly if I were to sum up what we have experienced those three words are so apt:
· Communion
· Participation
· Mission
We began last Friday night with an image of shoes. Let's pull them on again and continue the journey.
1. Thank you
First thank you to our Good and Gracious God. If God is not at the centre of all we do and are, we are but a gong booming a cymbal clashing. A huge thank you to all of you. We have been on this journey for some years. May we always continue to ask, not simply what we think we need, but also what God is asking of us.
Thank you especially to the team that have guided us to this moment especially Sarah Moffatt and Peter Biera and all those who have looked after us especially Lauren and those from he COYYA Team.
1. Mary Mother. the Church.
Finally, tomorrow is the day on which we celebrate Mary, Mother of the Church under the title of 'Mother of Mercy'. Just as she gathered with the apostles to await the coming of the Holy Spirit, so too may she wait with us and pray for us as we too await the deeper promptings of the Holy Spirit. God is Good, Good Indeed.