26 Feb 2020
Ash Wednesday
February 26 2020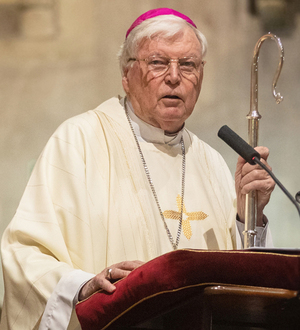 In the very beginning of John's Gospel, Jesus says to the disciples what do you want, and their question to Him is 'Lord where do you live?' As we prepare for Lent we pray that our hearts may be in the place where he lives. As the first reading said, come back to me with all your hearts.
Lent is a time for us to ask ourselves who owns our hearts, who occupies our hearts, who dwells in our hearts, is the Lord there as well?
We are very conscious that we are a Church of sinners, almost daily in the media there are reminders of that. And so as a Church we come before Jesus at this Lent and we say 'Lord have mercy'.
The ashes remind us of how lowly we can fall, but we are bolstered by our faith and through the resurrection of Jesus that which is dead will live, that which is lifeless will become the fullness of life.
We have the image of ourselves that Jesus gives us, and we have this faith of ours, that God so loved us He sent his only son, and as St Paul said to us, it is as if God is appealing through you.
You are ambassadors of Christ, so we come out of the Ash Wednesday ceremony with the conviction of our need for grace, with the assurance of our faith that God so loves us He sent His only son.
It is as if we are ambassadors for God. We pray that we will be worthy of that.
Fasting, prayer and almsgiving were how Jesus told us we are to prepare. Almsgiving is there in different ways -­‐ Project Compassion, bushfire appeals, Vinnies. Prayer is where we can make a real contribution. If we were to add five minutes of prayer each day in Lent, that is better than giving up chocolate. As for fasting, Pope Francis says to us that we should fast not from food simply but from selfishness, from uncharitable thought, from envy, from self-­‐indulgence.
We remember too those whose lives have been reduced to ashes; we think of bushfire victims, and today around the diocese the ashes being blessed have come from bushfire districts in the Adelaide Hills and on Kangaroo Island, so in receiving the ashes we might feel a sense of union with our sisters and brothers who have lost so much.
But the main thing is to come back to Him with all our hearts; Lord where do you live, come live in our hearts. And we thank you Lord that you so loved us you sent your only son and we pray that we may live worthily of that; it is as if God is appealing through us.
We pray that we truly may be ambassadors for Christ, but that the Church of sinners can also be seen to be a Church that is holy.
Homily for Ash Wednesday February 26 2020.pdf