14 Mar 2020
Jubilee Mass – Sisters of St Joseph
St Ignatius Church, Norwood – March 14 2020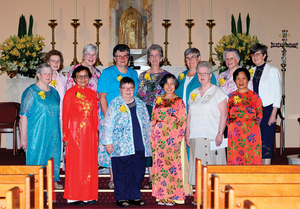 Dear Sisters & Brothers, I would hazard a guess that the Sisters of St Joseph would in the Catholic Church in this State have the greatest fund of stories about identities and parishes and the communities in little country towns. Compared to other Orders of Sisters, the Josephites had so many convents scattered throughout the land, in places of such diversity – Norwood, Port Adelaide, Yankalilla, Terowie, Caltowie, Gulnare, Georgetown, Blynman, Rhynie, Orroroo, Saltia, Jamestown, Woomera, Spalding, Burra – just to name a few. Imagine the diversity of backgrounds in those communities, and what anecdotes they would have inspired, and how around the fire at night, the nuns might have shared some of those stories! Imagine the stories about the rich array of eccentric priests the Sisters would have come across in so many places, along with the occasional peculiar Bishop.
As Christians we are people of the story. The story of Jesus amongst us. The first part of Gospels put into place was the Passion narrative. And we see how Jesus always spoke in stories, the Parables. We have amongst us as one of the jubilarians Sr Marie Foale, a platinum lady, who have given us so beautifully the story of the Josephites.
We thank God now for you jubilarians, and the story of your lives. All those years ago you joined your life, your story, to the story of Jesus. Like a marriage, it took only a few seconds to utter your religious vows on that first day seventy, sixty, fifty and forty years ago, a few seconds to utter them, and a lifetime to live them out. Today we celebrate and thank God for your stories.
At that moment of your vows, all those decades ago, you made a decision to become part of the story, the drama of the Josephites. And what dramas there have been. Marie Foale has written the history so lucidly and engaging, and Sr Sheila McCreanor has done the Church an enormous service in publishing the letters of Mother Mary. I have been reading through the Nest of Crosses and trying to imagine Mary MacKillop's thinking and feeling as she wrote from Queensland in 1869, sent as far away as one could be to make that new foundation, with the Congregation only four or so years old and well over a hundred young women professed in religious life after the skimpiest formation for many of them, and Mary was hearing stories from Sisters like Teresa McDonald, who was a close confidant, about strange goings on and visionaries, and twenty year olds being made Mistress of Novices, and several of the Sisters expressing their anxieties, while Fr Woods denied there was any cause for concern at all – how she must have worried, so distant from her early Daughters.
Mary also thrilled at the beauty of the story – how God had done such great things through an enthusiastic and dedicated and totally generous group of amateur Religious!
In 1891 Mary wrote to the Sisters reflecting on the Silver Jubilee of the Institute.
Twenty-five years ago, the first kept up St Joseph's Day as a special feast of our proposed Institute and little did either of us then dream of what was to spring from so small a beginning…. Our poor Father was happy that day and so was I, but we said little beyond wondering whom God will call to assist us and how He would make the way clear.
Ah, my Sisters, God has done wonders by us. He has tried us sorely and comforted us wonderfully.
"Little did either of us dream of what was to spring from so small a beginning…"
"…wondering whom God will call to assist us…"
You jubilarians have in your day been the answer to that question.
"…God has tried us sorely and comforted us wonderfully".
In living your own Religious lives you must have had times of being tried sorely but also of having in your faithfulness being comforted wonderfully.
The Scriptures you have chosen for today speak wonderfully to your story. To quote Paul to the Philippians "How you have felt to spread the Good News from day your first heard it right up to the present" and the Gospel of the vine and the branches, "Make your home in me, as I make mine in you". You started your story, you joined your story to that of Jesus, and you have allowed Him to make His home in you, and you have gone from that to bear much fruit, fruit that will last.
When Mary set off with Sr Rose Cunningham in May 1867 to journey to Adelaide Fr Woods gave her his version of the grand dream, the Rules of the Institute where it stated that the Sisters were to "take a most lively interest in every work of charity…" and "so as to leave nothing untried, no matter how difficult, provided it might advance the glory of God, the good of souls, and the prevention of sin in the world". Putting that into the language of today, the Josephites were to work out of their faith in God to promote the good of all people, and to work against that which destroyed our humanity.
For a total of three hundred and four years you Sisters have attempted to be true to that calling, in all humility. As Sr Marie Foale wrote of the early Josephites, so it has been true for you that you have been, in Marie's words, the living face of the Church, the isolated, the disadvantaged and the marginalised. The living face of the Church. In your Religious vows, and your living the works of mercy, you have shown the true face of the Church, helping it to shine through the marks and gashes that at times have disfigured it.
Pope Francis usually takes the Feast of the Presentation as the occasion on which to make reflections on Religious life. May his words give you consolation as you recognise your own story in what he says.
Consecrated men and women are called to be first of all men and women of encounter, an encounter with Christ that has changed their lives. It is the grace of the Lord who through that encounter changed your lives. And one who has had this encounter makes possible the encounter for others.
You follow a Christ who chose not to remain outside our drama (our story). Consecrated men and women are called to be a concrete and prophetic sign of God's closeness. We are called to be in a permanent state of mission, we are called to be custodians of this wonder.
The Church thanks you, and praises you, and thanks the God who called you to your discipleship, the One who prompted you to add your own story to the story of Jesus. nd then the words of the blessing from Philippians, "May He who began His good work in you bring it to completion on the day of the Lord Jesus.
PLATINUM – 70: Marie Foale and Judith Murnane
DIAMOND – 60: Mary Cresp, Judy Gurry, Carita Higgins and Genevieve Secker
GOLDEN – 50: Christine McArthur and Carmel Pilcher
RUBY – 40: Maryellen Thomas
Homily - Srs of St Joseph Jubilee Mass 14032020.pdf