In the footsteps of Jesus - eight Gospel pathways
Characteristics of healthy, vibrant, renewing parishes, schools and communities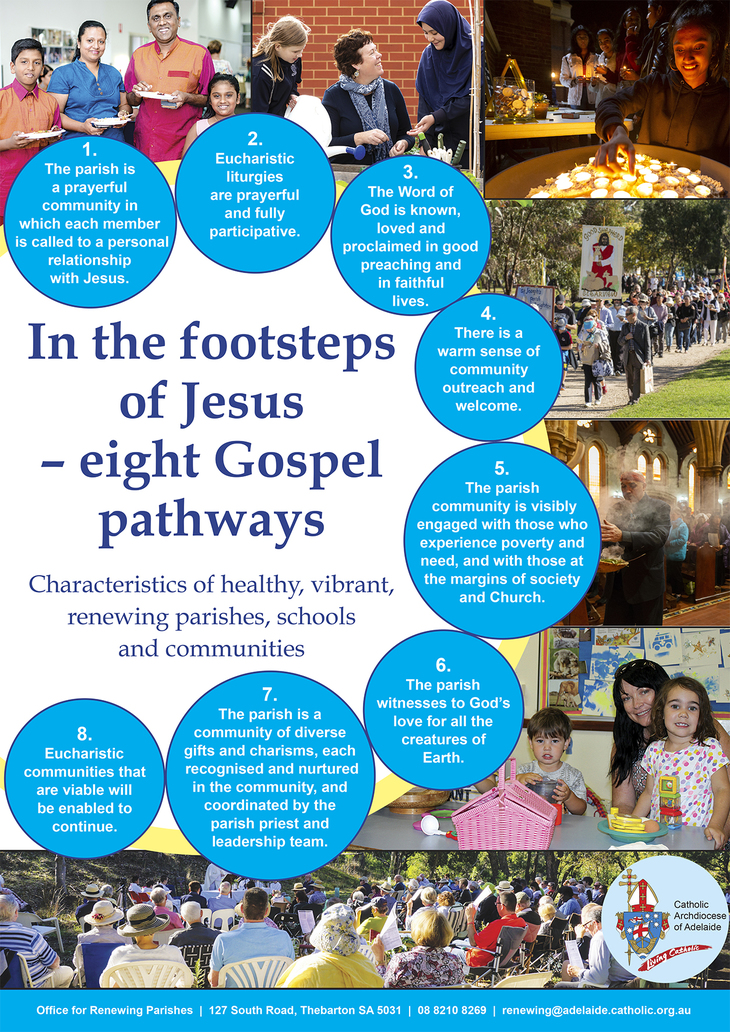 Building on the Second Vatican Council, Pope Francis calls us to the renewal of our parishes and communities. What is said above of parishes is meant to apply as well to all eucharistic communities in our archdiocese, including Aboriginal and multicultural communities. It also applies to parish schools and to other Catholic schools in ways that are appropriate to their different contexts.
The parish is a prayerful community in which each member is called to a personal relationship with Jesus.
Eucharistic liturgies are prayerful and fully participative.
The Word of God is known, loved and proclaimed in good preaching and in faithful lives.
There is a warm sense of community outreach and welcome.
The parish community is visibly engaged with those who experience poverty and need, and with those who experience poverty and need, and with those at the margins of society and church.
The parish witnesses to God's love for all the creatures of Earth.
The parish is a community of diverse gifts and charisms, each recognised and nurtured in the community, and coordinated by the parish priest and leadership team.
Eucharistic communities that are viable will be enabled to continue.
Renewing poster 8 keys 2018 updated new.pdf

Eight Gospel Pathways v3.9 October 2018.pdf

Activ8 Poster.pdf