01 Nov 2018
Being Church Together - Working Draft
As the Church seeks to review and renew itself, each and every part of the broader parish, including the parish worshipping community and parish school community, is called to appreciate, with openness and cooperation, the way in which these communities give expression to the mission of the Church. The Church continues to challenge itself to go to the peripheries. After all, children and families at these peripheries are often present in Catholic schools. In this way, Catholic schools are a gift to the fundamental mission of the Church: with the periphery near and in the midst of the parish, the challenge is to open the Church door, step out, to be with and to welcome.' Being Church Together (2018), p 5
08 Oct 2018
Letter from Administrator Delegate Fr Philip Marshall
Being Church Together: A Theology and Vision and Guiding Principles for the Parish-School Relationship

To: Parish Priests, Pastoral Associates, School Principals, Deputy Principals, APRIMs, PPC Chairs, Chairs of School Boards, Diocesan and Catholic Education SA leadership

I write to you to share about and invite your engagement with a document developed to help strengthen Parish-School relationships. Being Church Together: A Theology, Vision and Guiding Principles for the Parish-School Relationship was developed at the request of the Archdiocese through a collaboration between Catholic Education SA and the Office for Renewing Parishes. A 12-month education, engagement and consultation process will now commence throughout the Archdiocese, and all parishes, schools and communities are invited to be involved.
Circular - Being Church Together 860 51018[1].pdf

07 Oct 2018
Appreciative Visitation with Catholic Schools 2017-2018
Promising examples of Parish-School Relationships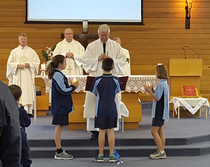 Many healthy, vibrant, and renewing parish-school relationships were noted during the 2017 – 2018 visits to Catholic Schools conducted by the Office for Renewing Parishes. An appreciative listening approach, through the lens of the Eight Gospel Characteristics, guided interactions with school boards, parents and friends, and staff meetings. This paper highlights practical and creative ways in which schools and parishes build, sustain and repair local relationships.
Promising Examples of Parish_School Relationships.v10.pdf