ABC Radio interview July 30
New project for northern suburbs
Fr Philip Marshall's interview with ABC Radio on an exciting new project for the Archdiocese and Catholic Education at Davoren Park.
AAB MORNINGS 891 - School.mp2

A word of thanks from Fr Philip
Fr Philip Marshall thanks people working across all sectors of the Archdiocese for their efforts during the coronavirus restrictions and calls on the faithful to be tender to themselves and each other.
---
Marian Procession and Peace Rally
Pentecost Sunday May 20, 2018 – homily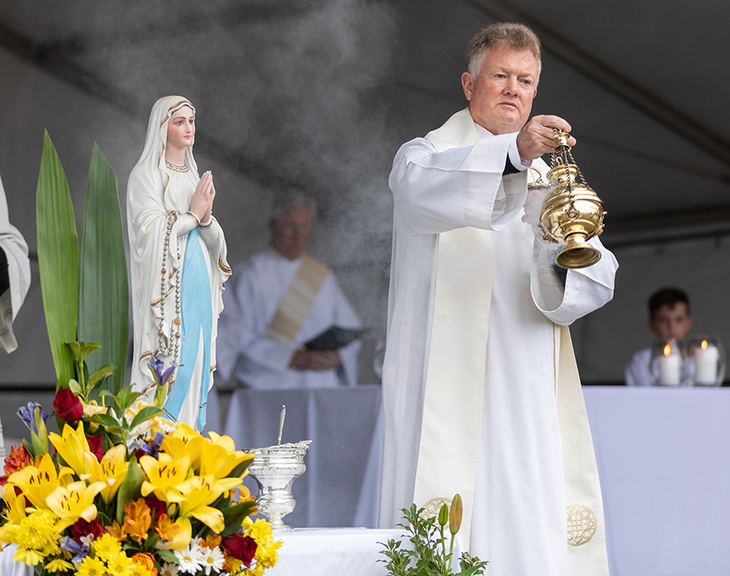 If we look at the world with attention, we see quickly that it is beautiful, that it glows with the beauty of the God who created it; if we look attentively at each other we discover the same thing, that is the first and deepest truth about creation.
But there is also a wound that runs through the centre of creation and through our own hearts too.
We can love this world we have been given, yet at the same time we are acting to bring about its destruction and cannot seem to alter our course.
We can be so profoundly tender to children, yet also be part of a world that allows them to be bought and sold. Many of us today are wearing garments made by children who are captive to slavery. We totally reject the mistreatment of children, yet we find ourselves caught up in their mistreatment, even profiting from it, and, if we are honest with ourselves, not rousing ourselves to stop it.
To read full homily please download pdf below.
Marian Procession homily Pentecost Sunday May 20, 2018.pdf

Christmas Message 2017
Fr Philip Marshall shares his Christmas message with the help of students from St Monica's Parish School at Walkerville.
---
Christmas Message 2016
Fr Philip Marshall VG
Catechists Commissioning Mass Sunday March 6, 2016
St Francis Xavier's Cathedral, Adelaide
Catechists Commissioning Mass March 6, 2016.mp2

Renewal of heart is crucial
The Southern Cross newspaper – May 2015
Lourdes Day Mass - February 11, 2015
St Francis Xavier's Cathedral
Lourdes Day Mass - Fr Philip Marshall.mp2