Protocols for Approvals
Lay Persons visiting the Archdiocese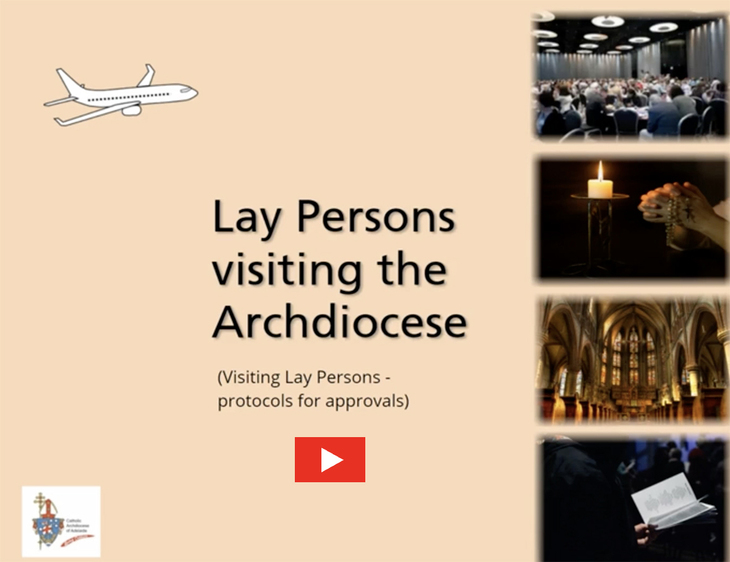 All Lay Persons wishing to visit for the purpose of conducting spiritual or religious activities within the Catholic Archdiocese of Adelaide are required to obtain approval to do so prior to arrival.
Approval will only be considered upon receipt of the following:
Completed 'Visiting Lay Person Form' along with
a signed 'code of conduct statement' form
This completed documentation must be forwarded direct to the Archbishop's Office via post or email.
ARCHBISHOP'S OFFICE
Catholic Diocesan Centre
GPO Box 1364
Adelaide SA 5001
Phone: 08 8210 8210
Email: caapermission@adelaide.catholic.org.au
________________________
PLEASE NOTE:
The Archdiocese is resolute in its responsibility for care of all participants involved in its programs and activities across the Archdiocese. Therefore, in accordance with the Children and Young People (Safety) Act 2017, the Archdiocese has established policies and procedures within a Safe Environments for All framework for safeguarding. Compliance with all policies and procedures are mandatory to ensure the safety and wellbeing of children and young people. Strict screening guidelines apply and therefore additional WWCC screening may be required dependent upon the length of stay. The location at which the activities are scheduled to take place will determine the requirements for screening which will be in accordance with state legislation and Archdiocesan policy.
Statement of Conduct (Lay Persons).pdf

Child Protection Unit Best Practice Guidelines_.pdf

Visiting Lay Persons Smart-form.pdf