The Feast of St Euphrasia 2022
with the Syro Malabar Community -30th October 2022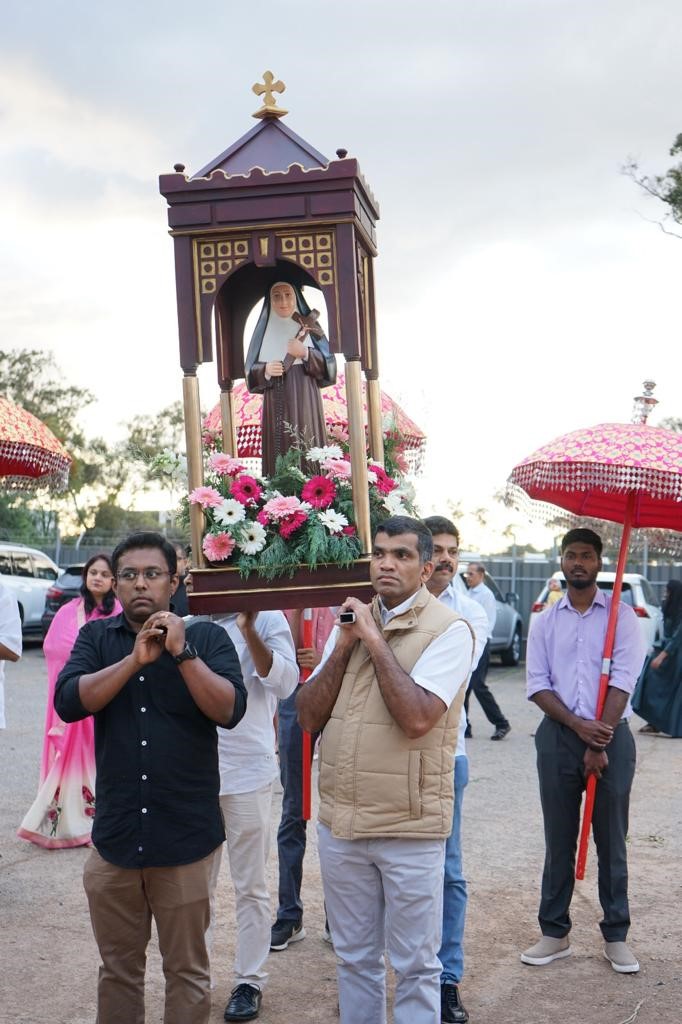 The Feast of St Euphrasia was celebrated by the Syro Malabar Community on 30th October 2022 at St Euphrasia Church, in Elizabeth South. The whole celebration was exquisitely organised by the St Euphrasia Syro Malabar Catholic Parish under the guidance of Fr Ajith Cheriakkara Antony, the Parish Priest to this Community in the North.
Navanal (Malayalam word " Nov" meaning '9'; and "nal" meaning 'days') was held from the 21st of October finishing on the 29th October by the many faithfilled families, devoted to the Rosary and its powerful blessings. In Indian tradition, the families recited prayers- Rosary and Noveva in preparation for the Feast Day Holy Mass on the Sunday.
On Sunday October 30th, 2022, the celebration commenced with the Rosary recited in Malayalam at 4.15pm, followed by Prasudhendhi Vazhch at 4.45pm with Solemn Holy Mass commencing at 5pm.
The celebration was attended by between 300 to 350 people. The main celebrant was Monsignor Francis Kolencherry the Vicar General from the Syro-Malabar Eparchy of St Thomas the Apostle in Melbourne, who had come specially to join the Adelaide community to celebrate this important annual feast Mass. Concelebrating Priests included our Vicar General, Father Dean Marin, Gawler parish Priest Father Jose Pazheparambil and the very appreciated Parish Priest of St Euphrasia Church, Father Ajith Cheriakkara Antony.
The Holy Mass began with an entrance procession – with the whole congregation carrying lit candles of St Euphrasia – the name sake of their church and a Saint revered by the Indian Syro Malabar Community. St Euphrasia was an Indian Carmelite nun from the Syro Malabar Church in Kerala, said to have had a vision of the Holy Family that healed her.
The entire altar was superbly prepared with flowers, lights and decorations, and the choir sang uplifting songs with music that filled the church with joy, as the Priest chanted the liturgy in a melodic manner. The atmosphere of lights and floral displays both inside and outside the church impacted the ambience of this joyful celebration and the festivities that followed.
After Mass finished the entire congregation processed out, with not one concerned for the pending weather forecast of severe storms, only faith and trust in Our Lord and His will. The statue of St Euphrasia was processed around the church in a solemn way.
Everyone was invited for fellowship and there was such welcoming hospitality after the Mass with the youth of the parish put on an amazing Bollywood style floorshow that pleased the crowds immensely. A traditional auction took place raising money for the poorest in our world.
Please view the photos of the celebration below for your enjoyment.