Multicultural Mass times
as printed in The Southern Cross newspaper. Last updated August2020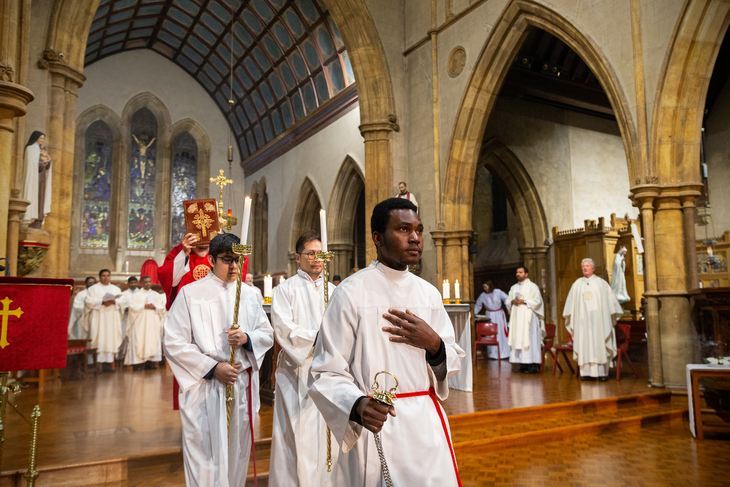 ABORIGINAL: St Martin De Porres Chapel, 80 Payneham Rd, Stepney – Sundays 11am. T: 08 8362 3185
AFRICAN: St Francis Xavier`s Cathedral, 17 Wakefield Street, Adelaide – Sun 2:30pm. T: 08 8215 6745
ALBANIAN: Mater Christi Church, 413 Grange Road, Seaton - 2nd Sun 3pm. T: 08 8356 4036
BURMESE: St Finbar's Catholic Church, Greencroft Road, Salisbury North- Occassional Mass - Regular Prayer Group. Contact for more information T: 0412 548 826
CHINESE: St Joseph's Church, 484 Magill Road, Kensington Gardens – 1st Sun12:30pm. T: 08 8212 8866
CROATIAN: St Patrick's Church, 256 Grote Street, Adelaide –Sun 10:30am; St Mary's Catholic Church, 179 Stanley Street, North Adelaide– Sat 6pm (Winter); Sat 6.30pm (Summer); Chapel of Our Lady of the Great Croatian Covenant, 171 South Road Ridleyton – Mon–Fri 6pm (Winter), Mon–Fri 6.30pm (Summer); St Mary's Catholic Church, 179 Stanley Street, North Adelaide– Wednesday 10am. T: 08 83400850
FILIPINO: St Augustine's Church, 23 Commercial Road, Salisbury – 1st Sun 3pm; St Luke's Church, New Honeypot Road, Noarlunga Downs –2nd Sun 2.00pm; Mater Christi Church, 413 Grange Road, Seaton – 3rd Sun 3pm; St Martin's Church, Corner of Hampstead Road & Muller Road, Greenacres – 4th Sun 4pm. T: 08 8356 4036
GERMAN: St Bonifatius Church, 17 North East Road, Collinswood, Sun 9:30am. T: 08 8362 9499
HUNGARIAN: Hungarian Catholic Centre, 45 Torrens Street, College Park – Every Sun 11am; 1st Friday 7pm. T: 8362 9499
INDONESIAN: St Pius X, 1 Avoca Street, Dernancourt – 3rd Sun 12:30pm. Tel: 08 8261 2428
ITALIAN: The Annunciation, 20 Montacute Road, Hectorville – Sun 9:30am; Sacred Heart, 252 Port Road, Hindmarsh – Sun 9.30am; Christ the King, 456 Henley Beach Road, Lockleys – Sun 9am; St Francis of Assisi, 59 Newton Road, Newton – Sun 10.30am; Our Lady of Queen of Peace, 1 Tarcoma Avenue, Portrush Rd, Payneham – Sun 9.15am. St Peters Holy Name Catholic Church, 80 Payneham Road, Stepney – 1st Sun 11am; St Augustine's, 23 Commercial Road, Salisbury – 2nd Sun 10:30am; Mater Christi, 36 Aidrie Avenue, Seaton – Sat 8am, Sun10.30am, Tues 8.15am. Queen of Angels, 81 Kintore Street, Thebarton – 4th Sun 9.30am.
KOREAN: St Ignatius, Corner Queen and William Streets, Norwood – Sunday 11.30am, Tues and Thurs 7.00 pm. T: 08 8332 0600.
LEBANESE MARONITE RITE: St Maroun, 379 Goodwood Rd, Westbourne Park, Sat 6.30pm (Arabic/ English), Sun. 10.30am (Arabic), 6.30pm (English); Mon - Thurs 9.30am, Fri 6.30pm. T: 08 08 8271 0806
LITHUANIAN: St Casmir's, 6 Third Ave, St Peters, Sun 11am. T: 08 8337 0134
MALTESE: Christ the King Church, 456 Henley Beach Rd, Lockleys –2nd Sun 3pm; St Brigid's Catholic Church, 50 Le Hunte Street, Kilburn – 1st Fri 10.30am; On special occasions (Fridays) St Brigid's Catholic Church, 50 Le Hunte Street, Kilburn; On special occasions (Tuesdays) Maltese Cultural Centre, 6 Jeanes Street, Beverley. T: 08 8353 7136.
MELKITE RITE: St Therese of the Infant Jesus, 3 Oxford Circus, Colonel Light Gardens – Sun 11:00am. T: 08 8232 8688
POLISH: Church of the Resurrection, 31-33 King William Rd, North Unley – Sat 6pm (Vigil Mass), Sun 9am, 10.30am, 12pm. Wed 7pm & 1st Fri 6pm & 7pm, 1st Sat 10am ; St Augustine's Church, 23 Commercial Rd, Salisbury – Sun 12noon; St Margaret Mary's Church, 286 Torrens Rd, Croydon – Sun 8.30am; St Maximilian Kolbe Church, 85 Rosewater Terrace, Ottoway – 85 Rosewater Terrace, Ottoway - Sun 10.30 am , Mon - Fri 6.30 pm; Mary Help of Christians Church, Cnr Main South Rd & Bains Rd, Morphett Vale – Sun 12noon. T: 08 8445 8466
PORTUGUESE/EAST TIMORESE: St Patrick's Church, 268 Grote Street, Adelaide, 1st, 3rd &5th Sun 4pm. T: 08 8232 8355
SLOVENIAN - Slovenian Catholic Church of the Holy Family, 51 Young Ave, West Hindmarsh – 1st, 4th & 5th Sun 10am. T: 08 9853 7787
SPANISH SPEAKING - St Brigid's Church, 50 Le Hunte St, Kilburn Sat. 5pm ; St Luke`s Church, New Honeypot Road, Noarlunga Downs 1st Sun 11am. T: 0406 905 306
SRI-LANKAN - St. Martin `s church, Corner of Hampstead Road and Muller Road, Green acres - 2nd Sun 5.30pm. (Mass currently viewed via Zoom link through facebook page @ Adelaide Sri Lankan Catholic Association (SA) T: 0451 281 905
SYRO - MALABAR RITE:
St Euphrasia Church – 5 Wiley Street, Elizabeth South, every Sun 9am and 5.15pm; Mon - Fri 6.00pm, Sat 9.30am. St Bernadette's Church – 1263 South Road, Walsh Ave, St Mary's – Sat 6.00pm, Sun 6.30pm, Friday 5.00pm; Queen of Angels' Church, Thebarton (Cnr of South Road and Kintore Ave) Mon, Tue, Wed, 6pm. Fri, 5.45pm , Sat at 8.30am, Sunday 4.30pm.
SYRO-MALANKARA RITE: St. Brigid`s Church, 50 Le Hunte Street, Kilburn, 1st Friday at 7.00pm, 1st Sunday at 10.30am, T 0427 661 067
TAMIL SPEAKING: The Annunciation Church, 20 Montacute Rd, Hectorville – 2nd Sun 3pm. T 0447 000 338
UKRAINIAN RITE: St Volodymyr & Olga, Woodville Rd,Woodville – Sun 9.30am (Ukrainian), Weekdays 8am. Our Lady of Protection, 18 Bartley Cr, Wayville, Sun 10.00 am ( Ukrainian), 11.30am (English); Weekdays 7.00 am. T: 8272 6031
VIETNAMESE: Vietnamese Catholic Community Centre, 29 South Tce, Pooraka – Sun 9am, 11:30am & 5pm, Sat 10am & 6pm, Tues – Fri 7pm. Mater Dei Church, 55 Beaufort Street, Woodville Park – Sun 5pm. Tel: 08 8359 1229
If you wish to see full list of Diocesan Mass times - please click here.