Mission & Vision

Centred in Christ and in the spirit of evangelisation, this office seeks to serve the catechists engaged in Religious Education and catechesis of children and families within the parishes in the Adelaide Archdiocese.
The catechist is an important instrument in promoting faith formation. This is done firstly by echoing the Word of God in their own life and secondly by helping others to do the same.
This office supports those engaged in the Religious Education and the catechising of Catholic children and their families within parishes in the Adelaide Archdiocese, both in metropolitan and rural areas whilst promoting the partnerships between family, parish and catholic school.
The team also provides resources, consultation and workshops that support parish and school communities in the area of:
Family catechesis
Sacramental preparation and celebration
Children's liturgy of the Word
Quick links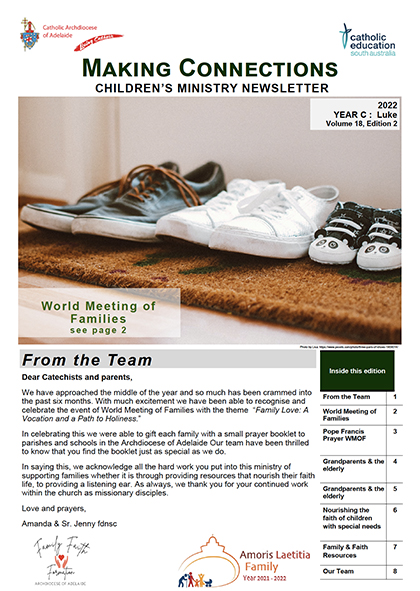 Latest Children's Ministry newsletter available now.
Family liturgy – You are invited to gather as a family for communal prayer each Sunday based on the Liturgy of the Word for that day.