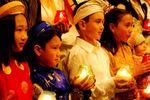 South Australia was settled by Europeans in 1836. From the colony's earliest years people from many religious and cultural backgrounds arrived to build a new life for their families and communities.
Initially, only 6 to 8 percent of the European settlers were Catholic. The first Catholic priest arrived in 1841 and ministered alone to the Catholic population for the next four years. In 1844, Adelaide became a diocese with a bishop and one priest.
From the beginning, the Archdiocese of Adelaide has been comprised of Catholics from diverse cultural backgrounds whose faith traditions have added to the rich tapestry of the Church.
The Archdiocese of Adelaide continues to welcome new arrivals into the life of the Church, and has established the Multicultural office to support this important ministry.