16 Jun 2023
Find a Mass app
And lots more features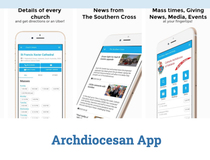 Adelaide Archdiocese App
The Adelaide Archdiocese's Find a Mass App is a great way to have everything you need to know about the local Church at your fingertips.
You can find your nearest Mass on any day of the week, look up the readings of the day and get all the latest information on news and events.
You can also give use the app to make donations to the parish and charitable agencies of the Archdiocese.
The app can be downloaded from the Apple and Google Play stores for free.
To set up to make donations all you need to do is download the app on your phone and log in once with your email and credit card or debit card details. You can make a one-off donation or set up recurring donations to the parish and community (second collection) and for the support of the clergy (first collection). You can also give to Special Appeals held throughout the year (they will be available at the time they are conducted in the parish).
You can also give to Catholic Charities and the Priests Retirement Foundation through the App - these donations are tax-deductible.
For instructions on how to use the Giving section of the App, see video below.