Children's Ministry Update
Children's Ministry Update containing articles of interest and notice of upcoming events is emailed to parish coordinators each term. Hard copies of the newsletter is posted to those coordinators who do not have access to email. The current edition of the Children's Ministry Update along with previous editions can be accessed here.
To have items of interest from your parish included in Children's Ministry Update forward them to this office as per the contact page.
______________________
Children's Ministry newsletter
Year C: Luke | Volume 18, Edition 2 | 2022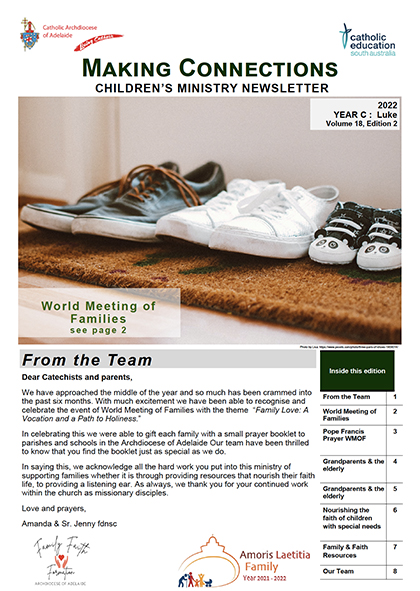 Dear Catechists and friends
We have approached the middle of the year and so much has been crammed into the past six months.
With much excitement we have been able to recognise and celebrate the event of World Meeting of Families with the theme "Family Love: A Vocation and a Path to Holiness."
In celebrating this we were able to gift each family with a small prayer booklet to parishes and schools in the Archdiocese of Adelaide .Our team have been thrilled to know that you find the booklet just as special as we do.
In saying this, we acknowledge all the hard work you put into this ministry of supporting families whether it is through providing resources that nourish their faith life, to providing a listening ear. As always, we thank you for your continued work within the church as missionary disciples.
Love and prayers,
Sr Jenny Seal and Amanda Razon
Catechist Newsletter 2, 2022.pdf

Year C Luke
Catechist Newsletter 2, 2022.pdf

LENT 2019 .pdf

celebrating Sacraments for those with special needs.pdf