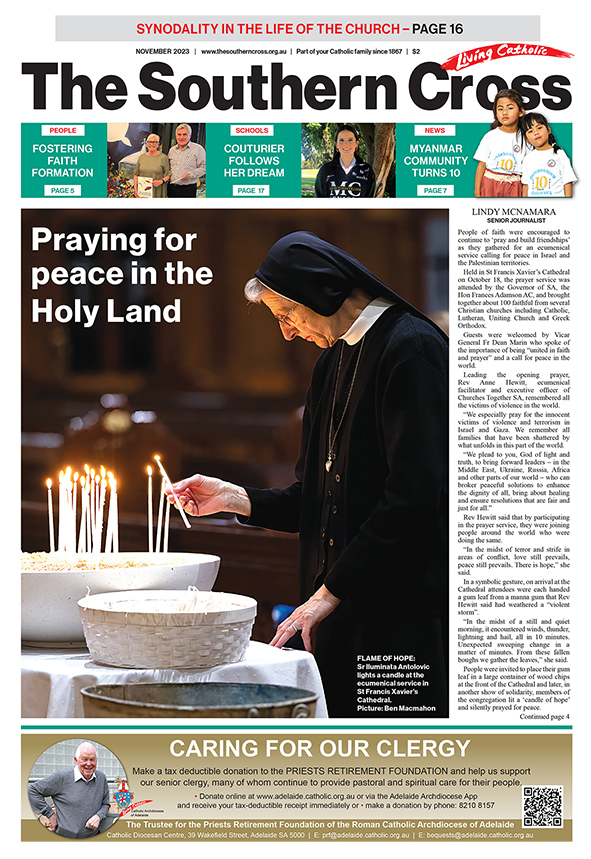 The Southern Cross is South Australia's Catholic newspaper serving communities across the state. In each issue, stories and features about what's happening in Adelaide and surrounding regional areas are a major focus.
Schools play a vibrant and important part in the life of a community. The Southern Cross covers Catholic school news, issues and special events of interest to students and their families. The Southern Cross reaching young families is a cost effective means of advertising to a younger and more affluent consumer. Many parents of these school children are members of the 'sandwich generation' with responsibilities for children and ageing family members.
The greater community receives The Southern Cross through churches, hospitals, clubs and shops. Advertising over this broad geographic area can be achieved with distribution of the newspaper ranging from Mount Gambier to Port Pirie.
The Southern Cross has been honoured with numerous national editorial and design awards over the years.
Latest news can also be accessed via the online website www.thesoutherncross.org.au
---
ADVERTISING: To book an advert please contact Luna O'Neill T: 08 8224 1600 or E: advertising@solsticemedia.com.au
Media kit available for download - see below.
2023-SouthernCross-Mediakit-Final-sml.pdf