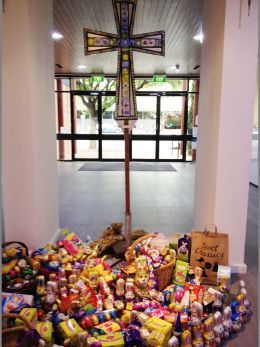 Over the past 70 years, the Catholic community here in South Australia has generously supported Catholic Charities and, in doing so, has made a significant difference to the lives of some of the most vulnerable and disadvantaged in the South Australian community.
Your generosity has financially supported much needed care of the homeless, people with disabilities, indigenous programs, mental health services, emergency accommodation for women and other vital community service work.
We thank you for your past gifts and donations, and congratulate you on actively demonstrating what Living Catholic is all about.
In addition to the programs and agencies supported by Catholic Charities, the Adelaide Archdiocese operates various funds and ministries into which donations and bequest proceeds are received. These include the Clergy Care Council's Diocesan Presbytery Fund, the Cathedral Restoration Appeal (a National Trust endorsed fund previously known as the Heritage and Humanity Fund), vocations, chaplaincy, ministry formation, life issues and child protection.
Donations and bequests can also be made for special appeals and building projects to your local parish. Not all of the Diocesan funds are able to provide tax receipts for donations, so enquire at the time of making your donation.
More specific details about each of the funds can be provided by the Communications and Fundraising Office upon request. All donations and bequests are acknowledged by the Diocese, and the generosity of all donors are remembered by the Archbishop in his regular thanksgiving Mass.