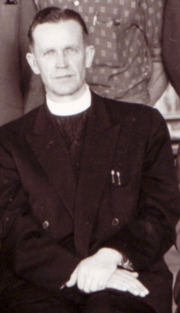 | | |
| --- | --- |
| Date of Birth: | 14/02/1919 |
| Date of Death: | 04/03/1962 |
| Date of Ordination: | 29/07/1945 |
| Date of Installation: | 30/11/-0001 |
Fr Joseph Kungys
Biography:
Early Life
Juozas, or Joseph Kungys was born on February 14, 1919 in Rensciu village near Telsiai in Samogitia, Lithuania. He attended the Telsiai school and then Telsiai Seminary. The war intervened and he was unable to complete his studies. Following the second Soviet invasion of 1944, he fled to Germany. Here he attended the Eichstaett Seminary and was ordained to the priesthood on July 29, 1945.
From 1946 to 1949 Father Kungys lived in Freiburg, Germany where he furthered his theological studies in the Frieburg University. He provided pastoral care to Lithuanians in Hechingen, Rottweil, Trassingen, Schweningen. He joined the Ciurlionis choir during those years.
Life in Australia
On the May 31, 1949, Fr Kungys arrived in Melbourne aboard the ship Skaugum, which carried many refugees from war torn Europe. He first resided in Uranquinty migrant camp just outside the township of Wagga Wagga. Then in 1950 he moved to Brisbane where Lithuanian religious language services were introduced by Fr Kungys. In 1951 he moved to Melbourne, as second priest to the Lithuanian community. Whilst in Melbourne he was one of the first teachers to offer Lithuanian language courses for people who were unable to complete their secondary studies in Lithuania or studied Lithuanian in Displaced Persons camps prior to coming to Australia. Not long after he moved to St Mary's parish in Geelong.
Fr Kungys was very involved in the Lithuanian community in Australia. He instigated the Australian Lithuanian Catholic Federation and later served as president and spiritual leader. He was one of the initiators of the Melbourne Catholic newspaper Teviskes Aidiai (Echoes of our Homeland). The newsletter is still being published.
Arrival in Adelaide
Fr Kungys arrived in Adelaide in September 1957 to replace Mgr Paul Jatulis who had been recalled to work in Rome. In January 1958 he took up residence in the Keswick parish and gave some assistance there. But he immediately he devoted his energy into the establishment of the Lithuanian Catholic Centre and church. A petition signed by 480 Lithuanians was organised to gather support for the community's own church. Permission was granted and a suitable place was found – the former Hardwick College in St Peters. It provided a large community hall, living accommodation and chapel. On November 30, 1960 the church, situated in Third Ave, St Peters, was consecrated by Archbishop Beovich in honour of Lithuania's patron saint, St Casmir.
However, Fr Kungys did not experience good health and in 1957 he spent a time in hospital recovering. He suffered a bad heart condition, which combined with asthma restricted his activities.
On August 7, 1960 the Adelaide community celebrated the 15th anniversary of Fr Kungys being ordained a priest.
In 1961 Fr Kungys took up residence in the Adelaide Lithuanian Catholic Centre where all priests since that time have resided. His health deteriorated further and on February 16, 1962 (Lithuania's Independence Day) Father Kungys celebrated his last Mass.
Early death
On March 4, 1962, Fr Juozas Kungys died at the young age of 43 in Calvary hospital. The corridor was filled with Lithuanians who spent his last moments as near to him as possible. Fr Vaseris came from interstate and gave the last rights. The following day Fr Kungys was laid out in St Casmir's Church where Fr Vaseris and Fr Butkus presided over a Funeral Mass.
A solemn Requiem Mass was celebrated in St Francis Xavier's Cathedral on March 6 and Fr Kungys was buried at Centennial Park Cemetery.
May he rest in peace.